Aston Martin Rapide S 2014 review
Aston Martin Rapide S 2014 four-door benefits from new eight-speed box
Aston has kept things pretty much the way they were with the Aston Martin Rapide S, but has made improvements in key areas. The new gearbox is the perfect companion for this engine, boosting the performance and making the car easier to drive. It's just as gorgeous and desirable, but we wish the infotainment system had been improved.
Along with the facelifted Vanquish, the Aston Martin Rapide S has been updated for 2014, with many of the changes applied to the sports car finding their way into Aston's four-door.
As with the Vanquish, the Rapide S doesn't look any different, but the Divine Red paintwork seen on our car is new and specially developed for the 2015 model year. New wheel options and new interior finishes round off the major visual changes.
Power from the 6.0-litre V12 is up by 2bhp to 552bhp, but with the same new eight-speed gearbox as the Vanquish, acceleration from 0-62mph is improved by half-a-second to 4.4 seconds. With an extra 10Nm of torque, it feels more effortless, but the frantic performance remains at the top of the rev range.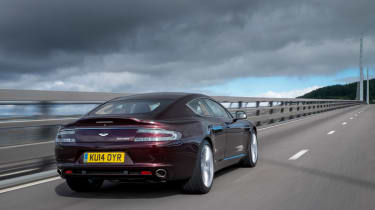 Changes to the suspension aren't too extensive, but Aston says the difference between having the dampers in Comfort and Track modes is more pronounced. Certainly, with them in their softest setting, the Rapide S floats over bumpy roads, giving it the kind of comfortable ride you expect from a GT car like this.
Its cruising credentials are further bolstered by the new eight-speed gearbox. Shifts are now smoother during gentle driving and quicker when you up the pace – this is the gearbox that the Rapide S has always needed. With the extra ratios and a new engine management system, CO2 emissions are down from 332g/km to 300g/km and the 90-litre fuel tank will theoretically allow for a 600-mile motorway cruise.
While the interior is still as beautiful and well crafted as ever, the infuriating infotainment system remains. A tiny black and white screen displays menu options, but it's incredibly difficult to navigate. Adults can still get in the back seats, but headroom is tight.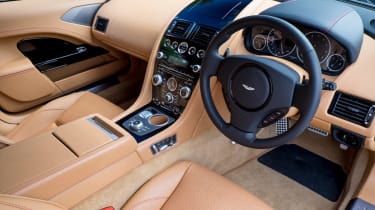 From the driver's seat, though, the Rapide S feels seriously special. The great soundtrack of the V12, combined with responsive steering and a nicely balanced chassis, helps disguise the fact this car is actually five metres long.
In reality, it doesn't feel too far off what Aston has managed to achieve in the Vanquish. Clearly, there's a little more body roll and more weight trying to drag you off line, but the handling is up there with what's on offer in a Ferrari FF or a Porsche Panamera Turbo.