Aston Martin Rapide vs Porsche Panamera
Aston Martin has finally unleashed its Rapide super-saloon. But does it have the pace and luxury to see off the storming Porsche Panamera?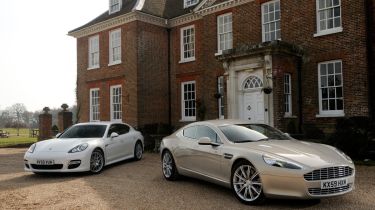 FEW models make an entrance like an Aston Martin – but the British firm's range of two-seater sports cars restricts your choice of travelling companion to one.
That's why the new Rapide is so eagerly anticipated. Its extra pair of doors and seats lets four people share the Aston experience without sacrificing the gorgeous looks for which the brand is famous. The Rapide is what James Bond will drive when he settles down and has a family – but is it the best four-door sports car in the business?
WATCH ASTON"S RAPIDE AND PORSCHE'S PANAMERA IN ACTION HERE
You don't have to be a secret agent to uncover a raft of rivals aiming to deliver on the same promises as the new Aston. And the best so far is the Porsche Panamera. Technically, it's a five-door hatch like the Rapide, but its looks are jaw-dropping for very different reasons to the elegant Aston. As with most of Ian Fleming's baddies, the villain of the piece isn't good-looking in the conventional sense.
Until now we've tested only the rear-wheel-drive V8 Porsche, but here we put the 4WD Turbo flagship through its paces. It's much cheaper than its British rival – will that be decisive?