What is a Puffin crossing?
Find out what a Puffin crossing is and how to use one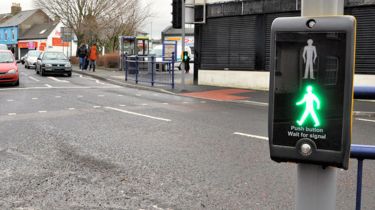 Puffin crossings might look similar and work in a similar way to pelican crossings, but there are some key differences to be aware of. Pedestrians will still see a black and yellow box with a button on it, and drivers will see normal traffic lights, but puffin crossings do not have the green and red man mounted high up next to the vehicle traffic lights.
Instead, the red and green man pedestrian crossing symbols are displayed on the yellow and black box with the crossing demand button.
• Best first cars for new drivers
Puffin crossings also have sensors that can detect when pedestrians have safely crossed the road, and when they are waiting on the pavement.
Puffin crossing rules and how to use one
Pedestrians push a button when they want to cross the road, and wait for the green man to appear on the black and yellow box mounted at waist height.
Once the green man illuminates, it's safe for pedestrians to cross. The traffic lights will stay red for vehicles until the kerbside sensors detect pedestrians have fully crossed.
• What is the Pass Plus scheme?
While pelican crossings utilise flashing amber signals for drivers, puffin crossings do not. This means motorists won't be tempted to drive on when people are potentially still in the road.
Puffin crossings are supposed to make life easier for pedestrians, and they can also make things better for drivers. That's because their sensors can cancel the pedestrian demand if they detect it's no longer required – for example if someone has crossed the road without waiting for the green pedestrian signal.
6 types of pedestrian crossing explained