What is a staggered crossing?
Find out what a staggered crossing is and how to use one.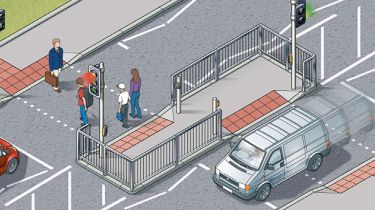 A pedestrian refuge ­is an "island" in the middle of the road, installed there to make it safer for people to cross roads that are not fitted with pedestrian crossings.
Although this itself is not a type of pedestrian crossing, staggered crossings are and work on a similar basis.
Staggered crossings rules and how to use one
Here, pedestrians are required to cross the road in two stages, pushing a button to activate a signal that lets them cross to a large "island" in the centre of the road and then doing the same to use a second crossing that lets them get the rest of the way across the road.
These staggered setups are usually found on carriageways with multiple lanes, where one side may be following a difference traffic light phase than the other. While they can combine pelican, puffin and toucan crossings, they should be treated as two separate crossings.
6 types of pedestrian crossing explained