What is a Pelican crossing?
Find out what a Pelican crossing is and how to use one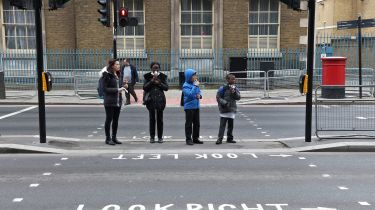 At a pelican crossing, drivers will be faced with a standard set of traffic lights that switch between red, amber and green. Pedestrians are presented with a black and yellow box with the word "WAIT" on it, which is mounted, at hip height, to the traffic light pole.
Pelican crossing rules and how to use one
Pedestrians who wish to cross the road must press a button on a black and yellow box. The 'WAIT' sign illuminates on the box when the button is pushed, and goes out once the traffic lights change. A green man (and/or woman) sign on the opposite side of the road confirms it is safe for pedestrians to cross.
Once the pedestrian signal has been green for a certain amount of time, it will start to flash on and off. At, or shortly after this point, the red signal for drivers will be replaced by a flashing amber light. This means pedestrians still on the crossing must be allowed to get to the other side, but no other pedestrian should start to cross the road. Traffic can proceed again once the crossing is clear.
Some pelican crossings accompany the pedestrian crossing period with a countdown timer to show how long there is left to safely cross the road. After a few seconds, the crossing switches back to a red signal for pedestrians, and a green signal for motorists.
6 types of pedestrian crossing explained