What is a Pegasus crossing?
Find out what a Pegasus crossing is and how to use one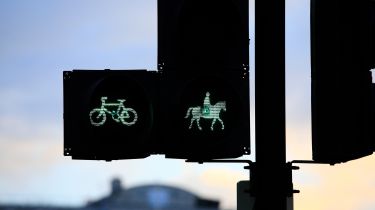 Similar to how a toucan crossing is a puffin crossing that allows cyclists to cross alongside pedestrians, a pegasus crossing lets equestrians ride their horses across the road next to people on foot.
• Best intensive driving courses
Again, these crossings use sensors to detect when there are people waiting to cross or already crossing the road and are usually wider than pelican or puffin crossings.
They also feature an additional green signal for equestrians and have an extra set of buttons higher up, so they can be reached by people riding on horseback.
Pegasus crossing rules and how to use one
Treat Pegasus crossings in the same way you would puffin, toucan and pelican crossings – but don't be surprised to see a horse crossing the road.
6 types of pedestrian crossing explained