External airbags could reduce crash severity by 40 per cent
Conceptual external side airbags emerge in milliseconds to form additional crumple zone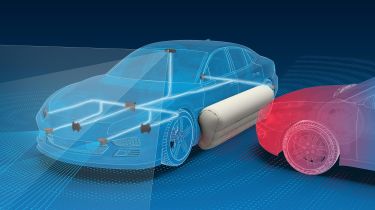 External airbags that inflate from a car's sills could reduce the severity of injuries from car accidents by 40 per cent, according to a leading auto parts supplier.
ZF's external side airbags are designed to act as an additional crumple zone in the event of a collision, deploying upwards to cover the side of a car in a matter of milliseconds, absorbing the forces from another vehicle in a side-impact scenario.
• Safest cars on sale in the UK
While officially a concept, ZF has been developing external airbags for some years, and the ever-growing number of sensors, cameras and crash technologies means their integration is potentially growing closer than ever.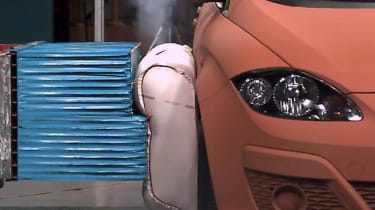 "Our concept of the pre-crash external side airbag is a great example of how ZF wants to achieve its Vision Zero, a world without accidents and emissions." Dr. Michael Büchsner, head of ZF's passive safety systems division said.
External airbags themselves are nothing new – the Volvo V40 featured one that emerged from the top of its bonnet, back in 2012. But while the V40's airbag creates a soft place for pedestrians, the new ZF concept airbag is designed to absorb impacts from other vehicles.
Airbag timeline
First they were fitted to steering wheels, then came passenger compartment airbags, while knee, curtain and even seatbelt airbags are relatively commonplace today. They've also been around for longer than many might imagine, being patented in the 1950s, and first emerging from the steering wheel of a production car in the 1973 Oldsmobile Toronado. Other General Motor cars were next in line to receive airbags, which were originally intended to replace seatbelts, not complement them.
The W126 Mercedes S-Class of 1980 was the first European car to feature an airbag, which by this point was designed to act as a Supplemental Restraint System, or SRS. The 1987 Porsche 944 Turbo was the first model to feature standard driver and passenger airbags, while curtain and knee airbags gained prominence in the late 1990s.
The current Mercedes S-Class and Ford Mondeo, meanwhile, feature seatbelt airbags to distribute impact forces from the belt, while pedestrian airbags emerge from the bonnets of the Land Rover Discovery Sport as well as the Volvo V40.
Do you think external air bags are a good idea? Let us know your thoughts below...