Government agrees security standards to prevent driverless cars being hacked
JLR, Bentley and Ford join forces with Department for Transport to develop cyber security guidelines for self-driving cars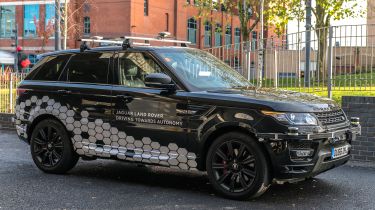 A set of official security and operating standards for driverless cars has been developed by a number of car companies and academic institutions.
Jaguar Land Rover, Ford and Bentley have collaborated with the Department for Transport in devising The Fundamental Principles of Automotive Cyber Security. The guidelines – while not mandatory- provide a framework to prevent future autonomous and connected cars from coming under the control of hackers, while also ensuring the safe storage and management users' data.
• All you need to know about autonomus driving
The document is aimed at car companies and their suppliers, and is based on previous principles developed by the DfT and the Centre for Connected and Autonomous Vehicles. These set out that self-driving and connected vehicles must be able to resist their sensors being jammed by hackers, and must automatically report hacking attempts to the relevant companies. Autonomous cars must also have fail-safe systems to protect road users and occupants if the self-driving cars malfunction.
The Government is determined to put the UK at the forefront of autonomous vehicles, an industry ministers expect to be worth £52 billion by 2035. Commenting on the new guidelines, Jesse Norman, minister of state for transport, said: "As vehicles get smarter, major opportunities for the future of mobility increase. But so too do the challenges posed by data theft and hacking."
Norman added the new standards "should help to improve the resilience and readiness of the industry, and help keep the UK at the forefront of advancing transport technology."
What do you think about autonmous cars? Let us know in the comments below...