New initiative gives military veterans automotive job opportunities
Mission Automotive helps ex-forces personnel start new careers in the automotive industry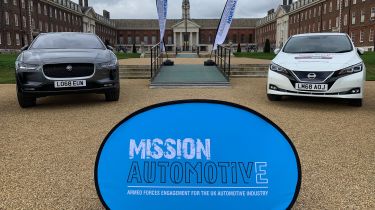 A new charitable initiative has been launched to give military veterans the chance to start new careers in the automotive industry after leaving the armed forces.
The Royal Foundation of the Duke and Duchess of Cambridge and the Duke and Duchess of Sussex has teamed up with the Ministry of Defence to launch Mission Automotive, which maps military skills to qualifications required for various jobs in the automotive sector.
• Utility companies taken to task over poor road repairs
The result is beneficial for both sides – the veterans are given sustainable and relevant employment opportunities, while the industry itself is able to tap into a new pool of talent to plug skills gaps in a wide range of areas, such as components, infrastructure, software, logistics, maintenance and repair.
In addition, the car market's current move towards electrification will open up more opportunities for ex-forces personnel skilled at working with high-voltage technology and systems.
One of the challenges faced by Mission Automotive, as explained by CEO James Cameron, is that many ex-forces personnel have never written a CV before in their lives, and either use military-specific terminology to describe their qualifications or even in some cases aren't aware of what qualifications they have at all.
Mission Automotive works with recruitment agencies to remedy this, helping veterans put down on paper what skills they have in order to see which are transferable to the automotive sector.
• JLR develops auto-opening door for disabled drivers
The initiative was launched at the Royal Hospital Chelsea and is being delivered by Mission Motorsport – the armed forces' motorsport charity.
It aims to continue the work done since the first Invictus Games in 2014, in which time 1,700 veterans – including 150 categorised as wounded, injured or sick – have been able to find jobs with Mission Motorsport's partners, including Jaguar Land Rover (JLR), DHL, Westway Nissan, Alcon and Bicester Heritage.
Colin Murphy, an ex-Royal Navy helicopter mechanic, now holds a position with JLR's Special Vehicle Operations division. He commented: "I have been on the most amazing journey with Mission Motorsport and it has culminated in a fantastic new job with an amazing company. I've worked really hard to make the most of everything that I have been offered – and it has paid off in the end.
Mike Hawes, chief executive of the SMMT (Society of Motor Manufacturers and Traders), said the automotive industry is in need of talent to address "critical skills gaps". He continued: "Ex-military personnel can provide some of these in-demand skills and the industry can provide them with a new career path."
Gavin Williamson, Secretary of State for Defence, praised the scheme for how it helps both veterans and the automotive industry and urged manufacturers to get behind it "not just for the benefit of the veterans, but for your [manufacturers] benefit as well".
What do you make of this new initiative? Let us know in the comments below...