Reimagined Lister Knobbly confirmed for production
Tuning firm Lister has announced it will build a two-seat, open-top sports car which pays homage to the 1958 Lister 'Knobbly' racer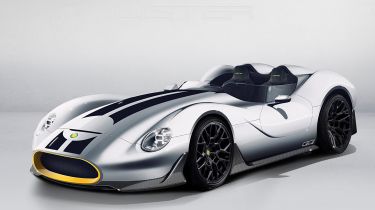 Lister has confirmed its plans to build an open-top two-seat sports car. Details about the new model are yet to be released but images released by the company reveal it will honour the famous 1958 Lister 'Knobbly' racer, driven by Stirling Moss.
The announcement was quietly made on Twitter by the company's owner, Lawrence Whittaker. The illustrations preview a long bonnet and short rear overhang suggesting the Knobbly will feature a front-mid-engined layout and rear-wheel-drive. When it eventually reaches production, it will be the first Lister designed completely in-house in the company's 65-year history.
The drivetrain could be sourced from Lister's current projects. The company is known for tuning Jaguars, so the new Knobbly could be powered by a version of the F-Type's supercharged 5.0-litre V8 engine, that also features in the Lister Thunder.
The bodywork is inspired by the classic Knobbly racers, with 'humped' wheel arches and twin aero-fins behind the passenger and driver's seats. It adds a range of modern design features, too, such as carbon fibre side skirts, a carbon fibre splitter, LED headlights, enormous alloy wheels and a squared-off, side-exit exhaust.
Lister's current model portfolio is made up of the LFT-666 (previously known as the Thunder), a range of classic racers, a handful of performance packages for Jaguar F-Type and a tuned version of the Jaguar F-Pace, which the firm claims will become the world's fastest SUV, with a claimed 0–62mph time of 3.5 seconds.
What are your thoughts on the new Lister Knobbly? Let us know in the comments section below…