Volvo: Safety as standard
Volvo continues to set safety benchmarks, thanks to high-strength design and cutting-edge tech. Its cars certainly add up for fleet drivers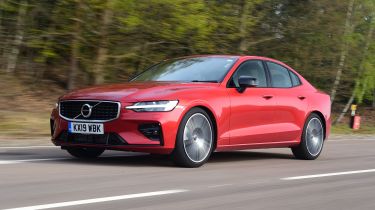 Advertisement feature from

Fleet managers are passionate about driver safety. Staff are their main asset, after all, with these employees covering hundreds of thousands of miles every year, and spending hour after hour every day behind the wheel.
That's why a Volvo is a perfect fit for fleets. Driver safety is core to the brand, and always has been. When they formed Volvo in Sweden in 1927, founders Assar Gabrielsson and Gustaf Larsson set out to put safety and quality first.
This much was obvious in Volvo's early products, but not until 1959, with the invention of the three-point seatbelt, was the brand's obsession with driver safety really hammered home. Introduced on the 122 mid-size family car, this simple but effective device – conceived by Volvo engineer Nils Bohlin – is now taken for granted.
At the time, though, it was a world first. Yet rather than keep it to itself, the company realised the potential of the technology and put driver safety ahead of profit by granting an open licence to any manufacturer wanting to use it.
Now, it estimates more than one million lives have been saved around the world by the adoption of the three-point seatbelt.
Volvo has backed this up with further safety innovations in the decades since, including crumple zones, rear-facing baby seats, side-impact protection, collapsible steering wheels and child booster seats.
It has an enviable record of developing safety features that initially seem revolutionary, but soon become the industry standard.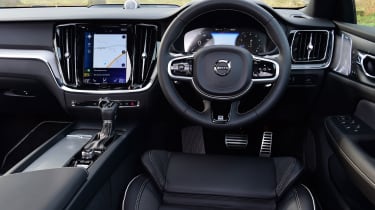 Even today, as the car business moves into the modern age of electrification and autonomy, Volvo remains at the cutting edge and its products continue to be associated with safety. The brand is a pioneer in self-driving technology, and the statement made by CEO Hakan Samuelsson – the Vision 2020 – that nobody should be killed or seriously injured in a new Volvo by the start of the next decade might have raised a few doubts had it come from any other manufacturer.
Samuelsson's enthusiasm for protecting occupants in their cars is shared by those in charge of fleets, whether it's with the basic features that have been included as standard for years or the latest, most advanced driver aids. These managers have a duty of care to ensure their team gets home safely at the end of a hard day on the road. And of course, because running a fleet is one of the biggest costs for any business, they're watching the bottom line, too.
So the latest Volvos, conceived around Vision 2020, will really appeal. Every model to wear the famous badge now comes with a level of standard safety equipment that sets it apart from rivals. The company calls this IntelliSafe, and at the heart of the package is a safety cage. This rigid structure forms the basis of all current Volvos, and acts as a ring of hot-formed, high-strength steel. This protects occupants in the event of a crash, keeps employees safe and ultimately saves businesses money.
From there, the company adds a range of airbags working in conjunction with the seatbelts to provide optimum occupant protection. Again, Volvo has been a pioneer in this field over the years; the company introduced the first side airbag in the 1994 850, the curtain airbag in the 1998 S80 and, more recently, the first pedestrian airbag (inflating at the top of the bonnet to give a soft landing) was first seen on the V40 in 2012.
Partnership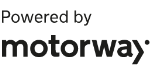 Need to sell your car?
Find your best offer from over 5,000+ dealers. It's that easy.
Just as important to fleet drivers, though, are the higher-tech safety features working in the background for which the brand has arguably become more famous in recent years. These innovations prevent accidents from happening in the first place, and are music to the ears of any fleet manager; anything that can keep company cars on the road, and out of the accident repair shop, has to be good news for the balance sheet.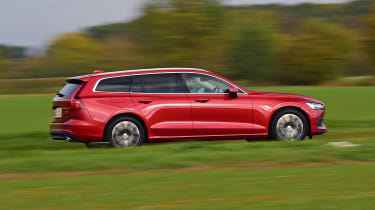 Leading the way is City Safety autonomous emergency braking, which uses radar and cameras to identify other vehicles, pedestrians, cyclists and even animals in the road ahead, day and night. This warns the driver if a collision is imminent, and applies the brakes if they don't react. Where there's a difference in speed of up to 31mph to the vehicle ahead, a collision can be avoided if there's no driver reaction; if the difference is greater, the collision can be mitigated.
But impressively, this technology is standard on every Volvo; user choosers needn't be confused by spec sheets here. This is crucial, with many companies now protecting their investments by demanding that cars on their fleets are equipped with AEB.
Features such as the Lane Keeping Aid, Driver Alert Control, Road Sign Information and Oncoming Lane Mitigation will also come into their own for business drivers spending long days on monotonous motorway journeys. Again, all are included on every Volvo as part of the IntelliSafe standard package – as the cars offer a level of protection beyond that required for a five-star Euro NCAP crash test – to look after occupants and, once again, protect your business's investment.
That's on top of the ingenious Run Off Road Mitigation set-up, which uses the advanced on-board sensors to detect when the car is about to veer off the tarmac and automatically tightens the front seatbelts to hold the occupants in position. Such innovations offer real peace of mind.
And if that list of safety equipment wasn't long enough already, a whole host of optional features can be specified. The IntelliSafe Surround systems use various sensors to give drivers a safety advantage on the road; Blind Spot Information assists with safely overtaking on multi-lane highways, Cross Traffic Alert warns motorists of approaching vehicles as they reverse out of a parking space and Rear Collision Assist tightens the seatbelts and primes the brakes if it senses an imminent impact from behind.
Meanwhile, the IntelliSafe Assist package comprises driver assistance systems; features such as adaptive cruise control and Pilot Assist take the strain out of motorway journeys.
If you're driving every day or ensuring your employees are staying safe on the road, you'll have the reassurance that all this technology is working seamlessly in the background of your Volvo. You'll know it's protecting your investment, saving your business money and that the car is better equipped than most to bring everyone home safely.