75% of electric car owners dangerously use extension leads to charge
Lack of public chargers for EVs leads to extension leads being used in order to charge at home, risking safety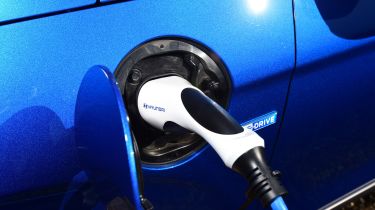 Three-quarters of electric and plug-in hybrid car owners admit to using unsuitable extension leads to charge up their cars at home due to a lack of public charging infrastructure.
In a survey of 1,500 EV owners by consumer protection charity Electrical Safety First, around 75% of respondents said they had used unsuitable extension leads to charge their cars from their mains electrical supply at home rather than purpose designed, weather proof, electric car charging cables. 
• UK has more electric car charging sites than fuel stations
Of these respondents, 75% went on to admit they had "daisy-chained" multiple extension leads in order to reach their car, increasing the risk of electrocution or an electrical fire.
Electrical Safety First carried out an analysis of data from the Department for Transport and Zap-Map, finding that the growth rate of licensed plug-in vehicles has outpaced that of public charging sites by as much as six times in the space of five years.
The number of EVs on UK roads increased from 25,983 in 2014 to 186,386 in 2018, while in the same period the number of charging locations rose from 3,251 to 6,669. 
• Best electric cars to buy now
Although further data released by Zap-Map shows EV charging sites actually outnumber fuel stations now, Electrical Safety First's research shows how chargers are unfairly distributed between different regions with approximately 2.6 per 10,000 residents in London, for example, compared with 1.03 per 10,000 residents in Wales.
Martyn Allen, technical director at Electrical Safety First, said: "We warn EV users against giving in to temptation to use standard domestic extension leads to charge their vehicles outside, and never to 'daisy-chain' them together.
"We recommend taking advantage of the Government's grant scheme, which will contribute towards the cost of a specially designed home charging point."
Have you ever charged an electric car or plug-in hybrid with an extension lead? Let us know in the comments...