'Car guys never retire, they go on to greater things'
Ian Callum, Dr Dieter Zetsche and Paul Buckett have left jobs in the car industry, but Steve Fowler thinks they'll leave a lasting legacy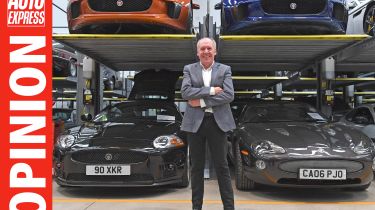 It was my love of cars that got me into this business the best part of three decades ago – and the same is true for most of my colleagues. The thrill of the drive, the beauty of the design and the cleverness of the engineering are what thrilled me most. And they still do.
It wasn't long before my fascination with and interest in the great characters that exist in the car business became a real draw, too. To be in the company of so many extraordinarily talented people remains something that I have to pinch myself for.
• Ian Callum steps down after 20 years
There are three people I've met recently who have all been heroes of mine and have left (or are about to leave) roles that have had a huge influence on us all. I should stress, these people are just leaving their roles – nobody with talent like these guys ever retires.
Last week I spent an afternoon in the company of Jaguar's design director Ian Callum on the eve of the announcement that he was to leave the job he was born to do. 
A few weeks ago I was with Mercedes-Benz boss Dr Dieter Zetsche just days before he handed over the reins to his successor. "My original influence was that I like to create things and have an influence on things," he told me. He's certainly done that, taking his company through a tumultuous period and leaving it in excellent shape for exciting times ahead. That's some legacy.
Back home, a softly-spoken gentleman has done more for the brands he's worked for than many others. Step forward Paul Buckett, who has left Volkswagen's PR team in the UK after a long career. He's helped to craft stories, guide executives and steer the companies he's worked for in good times and in bad. He's never been in the spotlight and would never want to be. But just for once, he deserves recognition. As they all do.
Mr Callum, Dr Zetsche and Mr Buckett, we salute you. You make this industry great and we should all be thankful.
Read Steve's interview with Jaguar's design boss Ian Callum right here...