"If the future's tough for cars, it's tougher for car shows"
With the popularity of motor shows waning, editor-in-chief Steve Fowler thinks it would be a great shame if they disappeared altogether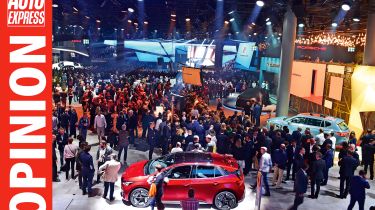 For those of us who love cars, the motor show has been an important part of our lives over the years. And for those of us lucky enough to report on the business we love, they're even more important.
For us, it's not just about gazing longingly at the latest models. This industry is about people, and motor shows give us the opportunity to get time with many of the great and the good running the car companies – all in one place.
• Frankfurt Motor Show 2019: round-up
The bi-annual Frankfurt Motor Show remains one of the largest on the planet – even if only in terms of footprint. It's the best part of a mile to walk from BMW's hall to the Daimler pavilion and worth every step for the stories that unfold on the many stands.
But motor shows are not what they were, and that was clear in Frankfurt. Downsizing has long been an industry buzzword, and it's now being applied to motor shows. The no-shows in Frankfurt meant halls previously full of new cars were walked past, while stands that once occupied whole halls were a fraction of the size.
One former industry luminary Karl-Thomas Neumann, who used to run Opel, went as far as to call it "a huge fail". He went on to say, "It's just a sad shadow of what it used to be," before predicting there would not be a Frankfurt motor show in 2021.
Vauxhall boss Stephen Norman told me that he devised a formula for parent company PSA to use to decide whether the return on investment meant it was worth attending. So Vauxhall and Opel were present; sister brands Peugeot, Citroen and DS weren't. Makes sense.
The important thing in the business is to make sure the head rules the heart, and if it were me, I'd be doing exactly what Stephen Norman does. But motor shows are like your favourite high street stores: if you don't use them, they won't always be there. We've already seen that in the UK, and it would be a great shame if motor shows disappeared from the world altogether.
Would you be sad to see the death of the motor show? Let us know your thoughts below...