League table of councils' electric car charge points published
Barrow-in-Furness Borough Council is the only local authority without any council-owned public EV chargers whatsoever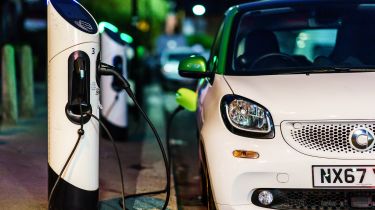 A league table of councils' public electric car charge points has been published, revealing which local authorities have installed the most and least chargers.
The Department for Transport (DfT) table revealed Barrow-in-Furness Borough Council to be the only local authority in the UK that hasn't installed any EV chargers of its own. A number of other local authorities, meanwhile, have only a handful, none of which offer rapid charging.
The UK has a total of 15,116 council-owned public charging devices - of which 2,495 are rapid chargers - equating to around 23 per 100,000 people. Of the 15,116 total, 12,549 (2,008 rapid) are located in England; of these, 4,360 (323 rapid) are in London.
In stark contrast, Wales has just 529 council-owned chargers in total, of which 58 are rapid - equivalent to 17 per 100,000 people. Scotland and Northern Ireland have also been left behind, with 1,743 (410 rapid) and 295 (19 rapid) council-owned chargers respectively.
The DfT's £5 million On-Street Residential Chargepoint Scheme allows local authorities to claim up to 75 per cent of the cost of installing EV charge points in their areas, meaning they only have to find funding for as little as 25 per cent of the cost themselves.
Despite 33 councils having taken advantage of this scheme in the last financial year, there are still more than 100 local authorities with fewer than 10 public charging devices per 100,000 people.
Now, the Secretary of State for Transport - Grant Shapps - has written to local authorities across the UK, urging them to use the available funding to build up their EV charging infrastructure.
"Your postcode should play no part in how easy it is to use an electric car," said Shapps. "And I'm determined electric vehicles become the new normal for drivers.
"It's good news there are now more charging locations than petrol stations, but the clear gaps in provision are disappointing. I urge local councils to take advantage of all the Government support on offer to help ensure drivers in their area don't miss out.
"To help increase the provision of charging locations, the Government is offering grants for the installation of chargepoints on the street, in work and at home. We are also offering grants to lower the upfront cost of these cars so everyone is able to experience the benefits."
Do you think there needs to be more public charging points? Let us know your thoughts below...