Men vs women park-off
Who will win the battle of the sexes, as men and women take on our parallel-parking challenge?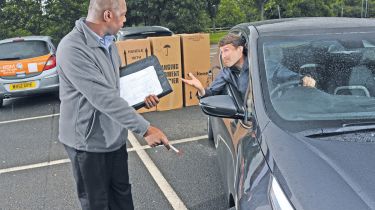 Who's better at parking: men or women? It's an argument that's been around for as long as the motor car – so in a bid to settle the debate once and for all, Auto Express staged a 'park off'.
We put a selection of male and female drivers head-to-head to see which sex is better at manoeuvring an average-sized car into an average-sized space.
Our contest was prompted by Gallus Strobel, mayor of Triberg in Germany's Black Forest. Mayor Strobel allocated 'easier' parking spaces in Triberg specifically for women, and justified the move by saying men are better at parking than women. Is he right? Or is he a chauvinist? To find out, we enlisted the help of the British School of Motoring and headed to Welcome Break's London Gateway services on the M1.
When it comes to parking, BSM driving instructor Gary Lamb has seen it all. So he was the perfect person to judge our contestants as they tried to park a Kia Cee'd in a bay no more than four feet longer than the car itself.Cardboard boxes marked the edges of the bay, while a white line represented the kerb – we didn't want any wayward parkers to damage our Kia's bodywork or scratch its alloy wheels.
Gary gave each contestant a score out of 10 for their parking performance. But they would fail the test instantly, and receive no points, if they touched one of the boxes or crossed the white line. At the end of the test, the sex with fewer fails would win, while the total score would be used in the event of a tiebreak.
Watch the video above to see the results.