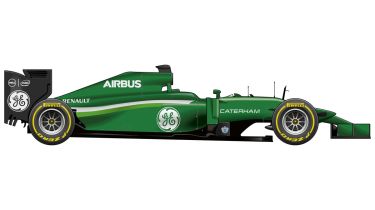 Engine Renault Races 39 Wins 0 Titles 0 Last year 10th (0pts)
Boss Tony Fernandes, who also owns Queens Park Rangers football club and Air Asia, is reportedly losing patience with his F1 team, so the pressure is on for 2014.
Caterham has generally been quicker than tail-end rival Marussia, but reliability has held it back. It's all change on the driver front, with Giedo van der Garde and Charles Pic replaced by Marcus Ericsson and Kamui Kobayashi.
After a middling junior formulae career, Ericsson seems unlikely to turn into a superstar, while Kobayashi may not be able to pull off his Sauber heroics at the back of the grid.
Our verdict: Must do better – 2014 is the year Caterham has to start worrying the lower midfield teams, otherwise its days in the sport could be numbered.
Drivers
Marcus Ericsson
Races 0Wins 0Titles 0Last year N/AAge 23Twitter @Ericsson_Marcus Did you know? Marcus has won two titles: the 2007 Formula BMW UK and 2009 Japanese F3.
Kamui Kobayashi
Races 60Wins 0Titles 0Last year N/AAge 27Twitter @kamui_kobayashi Did you know? Kamui spent 2013 driving a Ferrari 458 GT for AF Corse in World Endurance Championship.