Formula E video: is this the future of motorsport?
With electric power and street-only circuits, could Formula E be the blueprint for motorsport in years to come?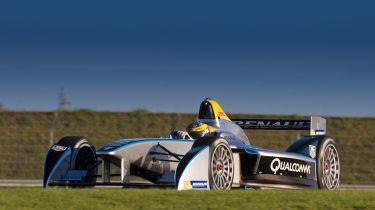 Formula E is a unique contest between futuristic cars - one that could completely redefine how we view motorsport and the car itself.
Rather than the silence you might have expected, Formula E cars produce a relatively high electric whine. It's less of an assault on the eardrums than its F1 counterpart as it's about 50 decibels quieter. That's because instead of a 1.6-litre V6 turbo engine and two energy recovery systems, this car uses an electric battery known as the Rechargeable Energy Storage System, or 'RESS', to power the wheels via an electric motor.
According to official figures, the maximum output of the electric power train when it comes to race-day will be 200 kilowatts - the equivalent of 270bhp. Flat out, a Formula E car is expected to see off 0-62mph in approximately three seconds, before reaching an FIA-limited top speed of 140mph.
While it's not quite F1 pace, it's easily enough power to make things interesting when the first of the 10 city circuit races gets underway later this year in Beijing.
Formula E will undoubtedly be a challenge. Not only will practice, qualifying and the race all take place on the same day, drivers are also going to swap cars mid-race - a result of the limited battery life currently available.
There'll also be a limit on power during the one hour races. Again, that's partly to save energy, but also to encourage overtaking, with drivers able to use a 'Push to Pass' system to briefly access their car's full power, which serves a similar purpose to Formula 1's KERS system.
Purists may argue that Formula E isn't racing, and there will be complaints about the perceived lack of performance. However, Formula E isn't trying to rival F1. From mandatory pit stops so drivers can change cars, to a short calendar of street only races, this is an entirely different prospect.