Tour de France 2014: the cars behind the bikes
The Tour de France's support cars face a test almost as gruelling as the riders, as we discover when we take a passenger ride for a stage
The Tour de France's support cars face a test almost as gruelling as the riders, as we discover when we take a passenger ride for a stage
The Tour de France is one of the world's most gruelling sporting events, with competitors covering up to 150 miles in the saddle each day over the course of three weeks. 
• Jaguar F-Type R Tour de France concept revealed
So the riders taking part (there were 198 at this year's start in Leeds) are among the fittest athletes on the planet. But the team cars following them have to be just as tough.
To see what they have to contend with, we took a seat in one of the Skoda course cars for stage three of the 2014 Tour – from Cambridge to London – and got a glimpse of the preparation and maintenance behind these unsung heroes of the world's toughest road race.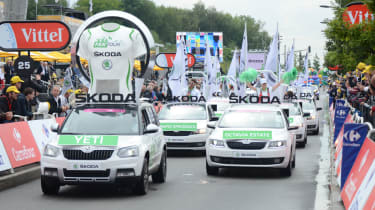 It's fitting that Skoda is one of the sport's major sponsors, as it started out as a manufacturer of bicycles back in the 1890s – long before it made its first car.
Company founders Vaclav Laurin and Vaclav Klement (after whom modern top-spec Skodas are named) then dabbled in powered bicycles and motorcycles before building their first car in 1905.
Things have come a long way since then, and Skoda now provides countless cars for cycle race events across the world – everything from the commissaire (referee) car to the service cars, team cars and a handful of media cars.
Tour de France 2014 support cars in numbers
• 22 teams• Around 250 cars • 263 litres of diesel per car (@40mpg over 3,500km) • Up to 8 bikes on each car
Riding in the Skoda Superb Tour de France support car
The Superb we used on the 97-mile UK stage was completely standard apart from a big two-way radio above the central storage bin and a comedy-style horn to sound spectators off the course. Our driver – ex-professional cyclist Malcolm Elliott –used the oversized walkie-talkie to communicate with other drivers and team officials along the route, giving us a step-by-step guide to everything happening around us.
Sitting inside, it's easy to see why Skoda is so big in cycling. The huge boot in our car swallowed everything we threw at it, while the spacious interior ensures the teams can cover the 2,000-plus miles chasing the race in complete comfort.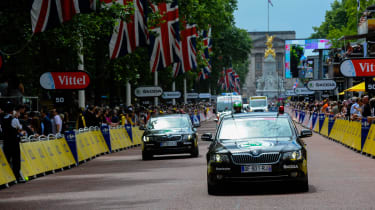 Fuel economy is key, too. Each stage takes place on closed roads with no opportunity to fill up on the move. Fans swarm every inch of pavement, meaning support cars are hemmed in by rafts of people, and banned from travelling against the flow of bikes.
The team support cars are even more fascinating inside. They carry everything from spare bike chains, gearsets and tyres to drinks and food for the riders and spare kit like raincoats for when the weather deteriorates. Then there are entire tool kits and fully assembled bikes on the roof. 
Some teams squeeze as many as eight road bikes on a specially designed roof rack – allowing them to account for every eventuality. But not every team favours Skoda estate cars. Team Sky uses Jaguars – including (for the first time) an XFR-S Sportbrake – while Tinkoff-Saxo opts for BMWs and French outfit IAM Cycling flies the flag with a selection of Citroens.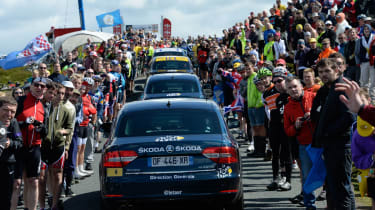 The teams are lined up behind the riders according to where they lie in the race standings (known as the general classification). So if a Sky rider is leading, the team's car will be first in the procession of support vehicles behind – vital if something goes wrong with a bike or the rider suffers an injury. And while you'd expect each team car to have been modified to within an inch of its life, they're all factory standard – aside from a full-length sunroof on some models to allow race officials to keep a keen eye on proceedings. 
Partnership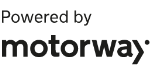 Need to sell your car?
Find your best offer from over 5,000+ dealers. It's that easy.
Yes, they're given garish livery and high-spec radio antennae, but after the teams are finished with them, they're checked over and sold on. It's a testament to their build quality that no adaptations are made, even after 2,000 miles of abuse at the hands of riders, drivers and, in some cases, members of the public.
So just think, the next time you walk into your local dealer after a used Superb or Octavia Estate, XF Sportbrake or even a 5 Series Touring, you could be staring at a Tour de France-winning support car...
Read our review of Skoda's special Tour de France Edition Superb.