Jaguar XFR-S Sportbrake review
Can the practical and powerful Jaguar XFR-S Sportbrake stand up to its German rivals?
During our time with the Jaguar XFR-S Sportbrake we tackled twisting roads, motorways and a few laps of the Nurburgring Nordschleife. The fact that it feels just as at home in all three environments is testament to this car's versatility. It's definitely pricey and not quite as much fun as a Mercedes E63 AMG S, but it's a hugely desirable super estate that deserves a place alongside its distinguished German rivals.
With the XF saloon and the XK there was always a progression from the mad 'R' models to the even more unhinged 'R-S' models. But Jaguar has skipped a step with the XF Sportbrake and gone straight to the most extreme Jaguar XFR-S Sportbrake.
With a 5.0-litre supercharged V8 producing 542bhp under the bonnet, the XFR-S Sportbrake is a direct competitor for the 577bhp Mercedes E63 AMG S Estate and the 552bhp Audi RS6 Avant. So why should you go pick the Jag over either of its German rivals?
It is the slowest of the bunch, but by most sensible standards it's still a blisteringly fast car. Acceleration from 0-62mph takes 4.8 seconds, which is about half-a-second down on the Mercedes and a second slower than the Audi. But because of the Sportbrake's supercharged engine you feel as though you have torque available whenever you want it.
Compared with the standard Sportbrake, Jaguar's engineers have increased suspension stiffness and spring rates by 30 per cent, fitted bigger brakes, swapped in some new anti roll bars and borrowed the steering and gearbox from the F-Type. There's a special exhaust system, too, which helps create Jaguar's famous roar on full throttle.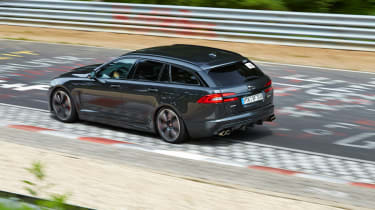 As a result, you get a car that feels immediately more agile and more responsive than a standard Sportbrake. There's no need to worry about it feeling any heavier than the saloon, either, with a back-to-back drive of both cars on the Nurburgring proving there's very little to separate the two. It was also the perfect place to try the Corner Recognition system, which holds on to gears when you're in the middle of a bend.
The quick steering is surprisingly light but it's nice match to the Jaguar's chassis. It helps it feel nimble and emphasizes the impressive turn-in, which is then followed by a huge amount of front-end grip. In the dry there's a fair amount of traction, too, allowing you to get on the power earlier than you might expect. That's not something we'd recommend in the wet, though, with these R-S models becoming notoriously slippery.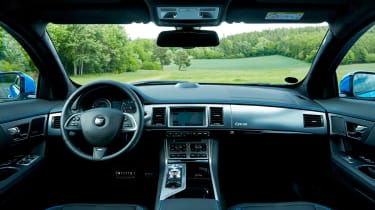 And despite all of its impressive abilities as a performance car, the XFR-S doesn't feel too far removed from a standard Sportbrake when you're just cruising. Sharp bumps are nicely cushioned, motorway journeys are muted and you can just sit back and enjoy the luxurious cabin. Aspects of it are beginning to look a bit dated but you can't complain about the R-S badges, the contrast-stitched leather or the excellent sports seats.
This is still a genuinely practical car, too – though a little less spacious than the Audi and Mercedes – with a 550-litre boot that can be expanded to 1,675 litres if you fold the rear seats down.
In terms of price the Sportbrake sits between the £77,005 RS6 and the £85,900 E63 AMG S, at £82,495. And while it's nowhere near as fast as the Audi and it can't match the Mercedes for space or involvement, the R-S Sportbrake warrants a space on your list of super estates.