Jaguar F-Type R Tour de France concept revealed
Special Vehicle Operations team has created a one-off Jaguar F-Type bike transporter for the 2014 Team Sky Tour de France effort
Jaguar's in-house bespoke division, Special Vehicle Operations (SVO), has followed up the D-type-inspired Project 7 limited edition with a one-off F-Type R Coupe designed to support Team Sky's Tour de France riders.
The car, powered by the standard supercharged 5.0-litre V8 developing 542bhp and 650Nm, will provide 'high performance team support' on stage 20 of the 2014 Tour.
Strictly limited to this one-off concept and not destined for production, the SVO-tweaked F-Type features a carbon fibre bike rack in place of the back window, allowing two race bikes to be docked on the rear bodywork. Other Tour de France-influenced modifications include an ancillary on-board electrical supply for the team radio system, plus other support communications kit like microphones, warning horns and display monitors for following race action.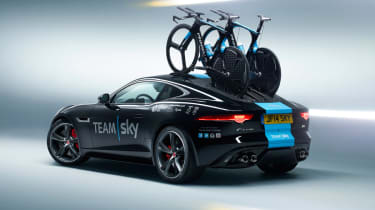 Outside, Team Sky logos are joined by the team's light blue colours in the form of a racing stripe. The colour theme is continued inside the F-Type Coupe with bright blue seat and centre console trim. The F-Type R Coupe will join Jaguar's regular fleet of XF Sportbrake support cars for the stage between Bergerac to Périgueux on Saturday 26 July 2014.