Jaguar F-Type Project 7 revealed at Goodwood
The Jaguar F-Type Project 7 is set to be the fastest roadgoing Jag ever, with a classic D-Type-inspired design
Jaguar's Special Vehicle Operations team has unveiled the Jaguar F-Type Project 7 production car at the Goodwood Festival of Speed 2014, and with 567bhp from a remapped 5.0-litre supercharged V8 it's the fastest, most powerful roadgoing Jaguar ever. The two-seater features a D-Type-inspired design, including an asymmetrical hump on the rear deck just like the Project 7 concept of 2013.
A maximum of 250 will be built, with the first cars set to be delivered from the middle of next year. Jag has managed to stay true to the original concept, with a shorter windscreen than the F-Type, plus a carbon-fibre bodykit that includes a new front splitter, rear diffuser and larger side skirts and helps to cut weight by 80kg. The Project 7 also has 177 per cent more downforce than an F-Type V8 S Roadster its based on at maximum speed.
Unlike the concept, this car has two seats, and there's a simple removable fabric roof that clips on to the header rail and can be folded and stowed in the boot - a bit like the 2010 Porsche Boxster Spyder. There are some special Project 7-badged door sills, while four-point racing harnesses are available as an option. The steering wheel is made from Alcantara, but is also available in leather.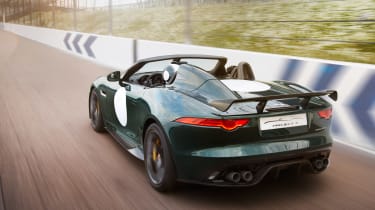 Available in four colours - red, white, blue and green - all models will get the white circles and stripes as a deletable option, although on black or white cars the stripes are in grey. Jaguar was keen to stress though that the handbuilt nature of the car means if a customer is prepared to pay for it, pretty much any colour and trim request can been met.
Power comes from the same 5.0-litre supercharged V8 as in the F-Type R, but it has an extra 25bhp, at 567bhp. It's paired with an eight-speed auto that's specially calibrated for the Project 7, giving 0-62mph in 3.9 seconds – three-tenths quicker than the R, with a top speed of 186mph.
There have been some chassis upgrades, too, including bespoke front suspension knuckles and new anti-roll bars. Spring and damper settings are 50 per cent stiffer at the front and 8 per cent stiffer at the rear than a F-Type V8 S Roadster, while it gets torque vectoring by braking and adaptive dampers. Carbon-ceramic brakes are standard and a degree of negative camber has been added to the front wheels to make turn in even sharper.
"The Project 7 is already faster than the F-Type Coupe R on track," Paul Newson, Director of Special Vehicle Operations told us. "We expect it to be the fastest Jaguar ever around the Nurburgring, a lap time will come later."
The Project 7 is the first production car to come from JLR's newly established Special Vehicle Operations division, which will employ 500 people in total and 150 directly in its own 20,000sqm facility, which it moves into later this year. The team is already working on other low-volume and high-performance products like a 542bhp Range Rover Sport SVR that we'll also see at the Festival of Speed, while "another couple are in the pipeline for the beginning of next year," according to Special Vehicle Operations consultant Harry Metcalfe.
Jaguar has confirmed a price of around £135,000, with the order book open as of today. Each car will carry a numbered plaque signed by Jag design director Ian Callum.