Don't miss the Auto Express Winter Special and free ValetPRO snow foam
Get the Auto Express Winter Special now with our 6 issues for £1 offer. You'll get a FREE bottle of ValetPRO Snow Foam!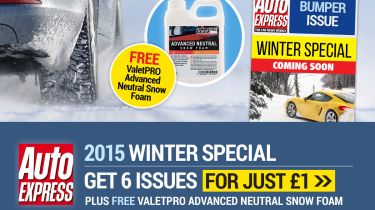 Winter seems to come around faster than ever each year and here at Auto Express we want to ensure our readers are safe on the roads. In this year's Winter Special, out in November, we bring you the 87 best SUVs - plus plenty more tips and advice on driving in cold weather.
There's also a detailed look at the best products to get you through to Spring, as well as tips on how to avoid a flat battery this winter, and a look at the best foreign winter driving courses. Don't miss out - order yours today.
You can get all of this in the Winter Special - along with 5 more issues of Auto Express - for just £1. What's more, every new subscriber will receive a FREE 1l bottle of ValetPRO snow foam.
ValetPRO Advanced Neutral Snow Foam is a high-foaming pH neutral pre-wash that removes dirt and grime prior to shampooing. It's applied with a dedicated 'foam lance' and is said to be a safe way to remove dirt and debris from your car's paint.
Take advantage of our great subscription offer and you'll get all this plus every issue delivered straight to your door each week.
Click here to subscribe and get 6 issues for £1 plus a FREE bottle of ValetPRO snow foam!