Get Auto Express for a year at better than HALF PRICE!
Christmas Day is approaching! Treat someone (or yourself) to the UK's best motoring magazine and SAVE 56%!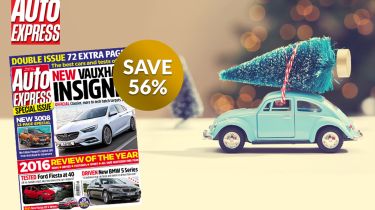 Christmas Day 2016 is fast approaching and this year Auto Express has the perfect offer for any car fans – a year's subscription for just £69.99!
Auto Express magazine is the ultimate weekly read for motoring fans. Nothing moves in the world of cars without Auto Express knowing about it, with the highest quality car journalism and an unsurpassed passion for motoring.
• CLICK HERE to get this subscription offer now!
So if you know a friend or relative who loves cars and motoring as much as we do (or if you just fancy it yourself), then why not give them a subscription to Auto Express? Not only will they receive every issue each week for a year but delivery is completely free!
Ordering a gift subscription couldn't be simpler, just a few minutes on our secure payment site, and all from the comfort of your home.
Click here to order today and then sit back, have a cup of tea and know you have another present ticked off the list.