"The driverless car industry is destined to kill more jobs than it creates in Britain"
We need a more realistic approach to driverless cars, says columnist Mike Rutherford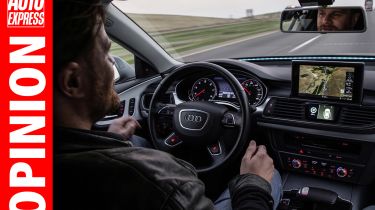 The Society of Motor Manufacturers and Traders (SMMT) has its heart in the right place. But the "voice of the motor industry" needs a more balanced and realistic approach to driverless cars.
It's so ecstatic about the prospect of them that I'm viewing its figures with extreme caution, if not deep suspicion. Furthermore, some of its opinions relating to Britain's role in the global driverless vehicle industry seem very ambitious.
First, the numbers. The SMMT's latest published stats say 731,000 people are employed across the UK automotive business. But thanks to the possible arrival of driverless/autonomous models, that figure will rocket by almost 50 per cent to over one million by 2030. I'm deeply sceptical. Nobody knows how many, if any, consumers actually want driverless modes of transport.
• Our full guide to driverless cars
Another prediction by SMMT and its researcher KPMG forecasts that 15 years from now "these new vehicles will give a £51billion annual boost to the UK economy". Such a colossal "boost" for our traditional motor industry, which currently turns over under £60billion a year, is, again, extremely optimistic. Guesswork?
Even less convincing is the claim "the UK has a unique opportunity to lead the way in developing the connected and driverless cars of tomorrow". Really? Britain is one of several countries trying to grab a slice of the driverless action. That makes it a mere contender, and not nearly as strong as the likes of Japan, Germany and America which are way ahead of us in terms of designing, building and testing cars that drive themselves.
Toyota and Honda put me in their autonomous cars a quarter of a century ago. The VW Group did the same a decade or so back. Britain is a follower, not a leader, and certainly not a "unique" player in the driverless car game.
Another painful truth is that the driverless industry is destined to kill more jobs than it creates. Britain's estimated to have around a million full or part-time employees who drive cars, taxis, limos, buses, coaches, vans, trucks and other vehicles for a living. Inevitably, some, most or all of them will be made redundant. Maybe the SMMT can put figures on firstly, the social cost of throwing these drivers on the scrapheap and secondly, the price of paying them long-term unemployment benefits.