Get dad the perfect gift in the Auto Express Father's Day Sale
Treat your dad to an Auto Express subscription for just £22.99 and get a free bottle of G3 Pro Cut & Wax for your car!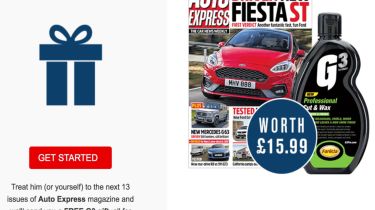 Father's Day is coming up on the 17th of June - and you can grab the perfect gift with our latest subscription offer.
Treat your Dad (or yourself) to Auto Express and we'll throw in a bottle of G3 Pro Cut & Wax absolutely free. G3 Pro Cut & Wax is a mild abrasive polish designed to remove minor surface defects such as swirl marks, holograms and oxidation leaving a thin, protective layer of Carnauba wax for a high gloss shine. It does 2 jobs in 1!
Save up to 44% on the cover price and enjoy free delivery of every issue, along with your free G3 Pro Cut & Wax gift.
Make the most of our Father's Day Sale and buy a gift subscription (or subscribe for yourself) by clicking here.
Fancy one of our sister publications instead? As well as Auto Express there are offers for the evo, Octane and Land Rover Monthly magazines, all from just £23.99.