Race of Champions 2015: Vettel is Champion of Champions
Sebastian Vettel has been crowned motor racing's 'Champion of Champions' in London's Olympic Stadium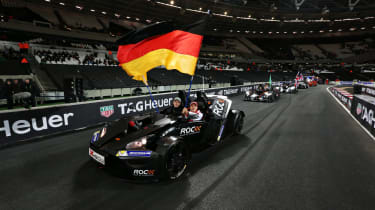 Vettel is overall 2015 Race of Champions winner
Four-time Formua One world champion and current Ferrari driver Sebastian Vettel has been crowned motorsport's 'Champion of Champions' at the 2015 Race of Champions in London's Olympic Stadium. In the individual knockout portion of the contenst, the German saw off rivals including WRC champion Petter Solberg, Le Mans winner Nico Hulkenberg and veteran Scot David Coulthard to book his place in the final against Le Mans legend Tom Kristensen.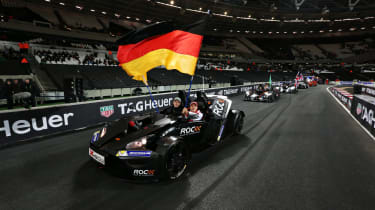 Despite being retired since the end of 2014, Kristensen showed he's lost none of his speed as he saw off Nelson Piquet Jr, BTCC ace Jason Plato and GT driver Alex Buncombe on his way to the final showdown. With the Vettel winning the first of the 'best of three' encounter, the tension was prolonged slighty when the duo had to change cars due to a technical problem. Then a mistake from Kristensen in the second race sealed the win for Vettel.
Vettel said: "Of course I'm very happy and honoured to win – but that took a while! A lot of world class racing drivers have won this trophy. I've tried to win this many times and failed many times but finally I've succeeded.
"What the Race Of Champions gives us is a lot of joy. When we were kids starting to race, we did it for pure joy and this sort of event is a good reminder of that. When you close the visor, ultimately victory is still what drives you. But I've tried to win this so many times, today was more like a surprise. We all know this format is very difficult because no one gets much time in the cars so you need to find your rhythm quickly. Today I had the feeling I found it straightaway. It was very cold but it was a great atmosphere so thank you very much to everyone for coming to watch."
Kristensen added: "Seb is a deserved winner – he drove brilliantly and he showed that skill in the final. I gave my all and it was close but he's been really on it here. Obviously I retired last year but it was great to come back and remind myself how it was to compete – and to stay on the track all the way to the final. RoC is all about fun and it was good to see so many people watching in the cold conditions. Apart from Seb, the main achievement today was by the people who have been here supporting this great event."
Nations Cup: Plato & Priaulx take home win for England
British tin-top stars Andy Priualx and Jason Plato (below) have won the Nations Cup element of the 2015 Race of Champions in London's Olympic stadium. The pair defeated a formidable Team Germany line-up of Sebastian Vettel and Nico Hulkenberg in the final to take a popular win on home soil in front of a jubilant crowd.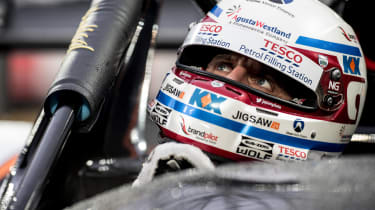 The early heats saw the eventual winning duo overhaul Brazil's Felipe Massa and Nelson Piquet Jr. Also getting through at that stage was the 'Young Stars' line-up of DTM champion Pascal Wehrlein and recently announced British F1 driver for 2016 Jolyon Palmer.
Le Mans veteran Tom Kristensen and WRC legend Petter Solberg's Team Nordic saw off the challenge of the Team Americas line-up of IndyCar's Ryan Hunter-Ray and Argentinian WTCC star Jose Maria Lopez.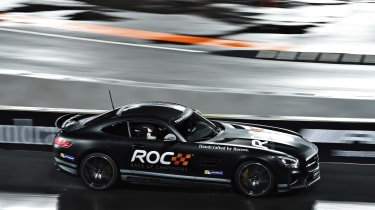 Team Germany, consisting of four-time F1 champion Vettel and Force India's Hulkenberg, presented a very strong line-up. There was plenty of interest in the early stages as Vettel took on former Red Bull team-mate Daniel Ricciardo. The ever-consistent German emerged triumphant and Hulkenberg then repeated the feat against Aussie bike legend Mick Doohan.
The quarter-final battle between British F1 heroes Jenson Button (representing another 'Team England') and David Coulthard (who paired with Susie Stoddart to form Team Scotland) was one of the highlights of the night – the gap between them at the flag just five thousandths of a second.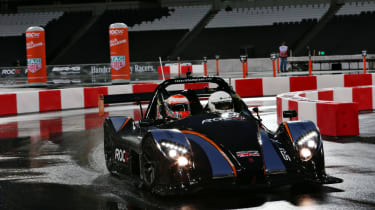 In another quarter-final, Priaulx and Plato saw off the Young Stars to advance to the semis, the first of which saw Germany secure its place in the final by fending off the Team Nordic challenge.
The next semi saw both Team Englands face off. Priaulx took the early advantage by despatching with GT ace Alex Buncombe and there was another very close run between Button and Plato, necessitating a deciding showdown between Priaulx and Button to decide who would face Germany in the final.
Afterwards, a delighted Priaulx said: "I had a great night. Tonight it all just hooked up. Germany have won it a few times so it's nice to have a turn – and nice for me to win a race for once! I've been to the Nations Cup final three times so to do the job is great. This competition is tough and it gets tougher every year so you have to be on your A game here because every race is like a qualifying session. It's so easy to make mistakes but I'm really chuffed."
Plato added: "I made a few mistakes tonight so Andy's pushed me through it but it's a fantastic feeling to win at home. Team Germany beat us in the final the last time we did it together so it's actually an excellent rivalry. So this has to go down as one of the highlights of my career – to race against the calibre of these guys, who are the best in the world, and to have the positivity of racing in this venue. It can't be underestimated what it means to race in front of your home crowds. We're in an iconic stadium and you can hear them as you cross the line."
Beaten finalists Team Germany also had a fine evening's work, but they couldn't quite add to the six ROC Nations Cup titles that Vettel won together with Michael Schumacher from 2007 to 2012.
Vettel said: "It hurts – a lot – but Andy drove fantastically tonight, so well done. They deserved to win and it's especially nice in front of your home crowd. If you're in the final you want to win but someone has to lose and unfortunately it was us today. We tried everything but it was their day, so I'm also very happy for them. I had a lot of fun anyway and I'm looking forward to tonight. The nice thing about this event is that it's an opportunity for us to hang out with other drivers and a lot of them have become friends over the years."
Hulkenberg added: "In the final I was struggling with the back end of the car so I was getting sideways but Andy was on great form and did a great job. So congratulations to them. To lose in the final does bother me. This is a fun event, but if you get so far you want to do it. Still, I've really enjoyed my first taste of this event here today. Now I'm already looking forward to tomorrow when I'll get another try. Overall I've had a blast and I'm sure tomorrow will be even better."
Event preview
Title winners from Formula One, the World Rally Championship, Le Mans, touring cars and motorbike racing come together at London's Olympic stadium this weekend for the Race of Champions event.
McLaren's Jenson Button and ex-Red Bull man David Coulthard are leading the British contingent, with three-time World Touring Car champ Andy Priaulx, reigning GP2 title winner Jolyon Palmer, Coulthard's fellow Scottish racer Susie Stoddart, double British Touring Car champ Jason Plato and Nissan GT ace Alex Buncombe also competing.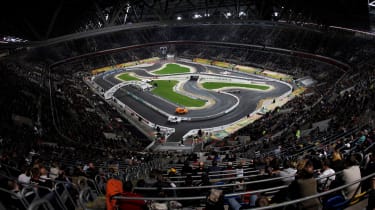 Button said: "I can't wait to be back at the Race of Champions – especially to be racing at home in the former Olympic Stadium. It's always a lot of fun, but everyone wants to put on a good show for the fans – and of course we only pretend to be taking it easy before giving everything when we're in the car."
Button's F1 rivals Sebastian Vettel, Nico Hulkenberg, Daniel Ricciardo, Felipe Massa and Romain Grosjean will compete, too.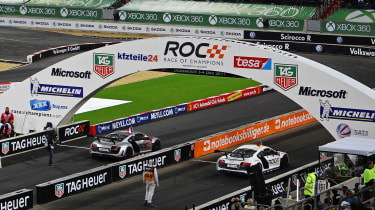 Contenders from outside F1 include ex-WRC and reigning World Rallycross champ Petter Solberg, current Formula E title holder Nelson Piquet Jr, newly crowned DTM driver's champ Pascal Wehrlein, two-time WTCC champion Jose Maria Lopez, nine-time Le Mans winner Tom Kristensen and MotoGP superstars Mick Doohan and Jorge Lorenzo.
Unlike some previous years, no NASCAR drivers will be making a trip to the London event, but the 2014 Indianapolis 500 winner Ryan Hunter-Reay will be on hand to represent the United States.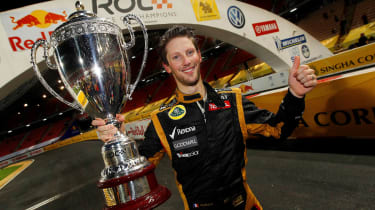 Friday night sees the drivers pair up into national and regional teams for the 'RoC Nations Cup', while Saturday is reserved for an individual competition to decide the 'Champion of Champions' – a title won in previous years by Coulthard, Grosjean and Volkswagen WRC ace Sebastien Ogier.
The event also features stunt shows and music between the races to keep the fans entertained. Tickets are available online and cost from £27 per person for each day.