12 days of Christmas prize giveaway
Over 12 days of Christmas a car mag gave to me... the chance to win loads of fantastic prizes. It's our 12 days of Christmas giveaway 2015!
The Auto Express 12 Days of Christmas prize giveaway is on. We've got an incredible series of not one but 12 amazing competitions running one-per-day throughout the first 12 days of December 2015.
• Winter car checklist and best buys
We've got 12 fantastic hauls of prizes to celebrate the festive season, each (roughly) adhering to the lyrics of the classic '12 Days of Christmas' carol. The prizes include everything from car cleaning products and luxury Aston Martin branded pens to slot car games, a brilliant Casio Edifice Red Bull watch and a whole library of car books.
There's a great early Christmas present in there for everyone and on each of the first 12 days of December there's a new prize on offer and a new way to win!
Just scroll down the page for details of the 12 amazing prizes and what you can win today…
We've now finished our 12 Days of Christmas giveaway - congratulations to all who won one of our excellent prizes!
Over 12 days of Christmas a car mag gave to me…
Twelve cleaning products
We kicked off our 12 Days of Christmas prize giveaway with 12 car cleaning products including Autoglym car shampoo, car wax and a car vacuum. Our lucky winner Joanne Martin has won the whole package.
Eleven winter wonders
We gave away a complete winter car care kit on December 2nd with everything you'll need to tackle the winter weather on the roads. Again, one winner recieved all 11 prizes. 
Ten crisis tools
A full winter car crisis kit was the prize on December 3rd. It's basically everything you'll need if your car gets stuck in the snow. The winner was Rosie Willock who came up with the caption for the image below...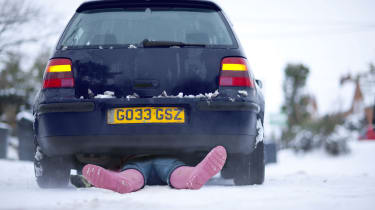 The winning caption was: "Tell me when to stop darling!!!!"
Nine books a-reading
On December 4th Hellen Wood won a whole library of brilliant car books including a history of Mercedes-Benz and a round-up of the greatest Lamborghini supercars. She designed the 'Christmassy car' below and our judging panel picked it as the winner.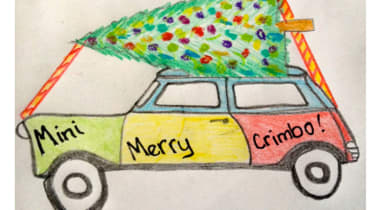 Eight sprays a-freshening
December 5th was your chance to keep your car smelling fresh for the festive season with these automotive air-fresheners. Eight winners won a prize by sharing the 12 Days of Chrstmas post on the Carbuyer Facebook page.
Seven maps a-guiding
December 6th saw the giveaway of seven A-Z road atlases. Seven winners each one a map each after they told us their ultimate Christmas road trip!
Six slots a-racing
Christmas wouldn't be Christmas with out a new toy and six lucky people won one of six slot car sets* we had up for grabs.
*(sets were unpacked for photography purposes)
Five free subscriptions
Forget 5 gold rings, on December 8th we gave away 5 free subscriptions to probably the best car magazine in the known world - Auto Express.
Four model cars
We kept the gifts flowing on December 9th with one of four great model cars going to four lucky winners!
Three posh pens
On December 10th we gave away three posh Aston Martin pens to some great car-based Christmas carols!
Two (pairs of) driving gloves
Driving gloves are the perfect Christmas present for the motorist who has everything and we gave two pairs away on December 11th. All you had to do was share this Facebook post!
…and an official Red Bull timepiece
And the final instalment of the Auto Express Christmas prize giveaway was a Casio Edifice Red Bull watch!
Partnership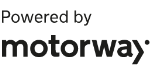 Need to sell your car?
Find your best offer from over 5,000+ dealers. It's that easy.
 Terms and conditions apply to all the competitions so make sure you read them before you enter. Good luck!