New DeLorean DMC-12 could enter production next year
The US company now in charge of the famous DeLorean nameplate could start production of its revamped DMC-12 as early as 2021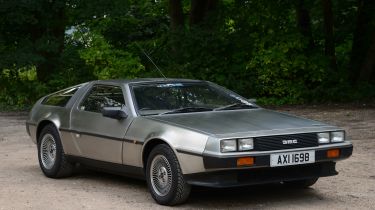 Back in 2016, the now US-owned DeLorean Motor Company announced it would build a limited number of "new" DMC-12s, using a combination of modern components and leftover stock from the car's original production run. The project has remained dormant for the last four years, but recent legal developments could see the car enter production in 2021.
The campaign was originally triggered in response to a 2015 US law-change which covered low-volume vehicle manufacturing. Once finalised, the updated regulations will allow smaller American car manufacturers to produce and sell up to 325 replica vehicles per year which don't need to conform to the latest US crash-safety regulations.
• We drive the DeLorean for Back to the Future day
DeLorean's project has remained on the back-burner since the law's introduction in 2015, following the National Highway Traffic Safety Administration's (NHTSA) failure to submit a series of guidelines for the proposal. However, SEMA filed a lawsuit against the NHTSA in October 2019, which seems to have forced the American government's hand.
In December of last year, the NHTSA released a document which outlined the regulations of the Low Volume Vehicle Manufacturing Act. Should the bill pass scrutiny by the US Office of Management and Budget – which could take up to six months – the refreshed DeLorean DMC-12 could enter production as early as next year.
The American-owned DeLorean Motor Company bought the assets and leftover panelling from the original Belfast factory in 1997. As such, each "new" DMC-12 will wear the same body as its 1980s siblings. Once operating at full capacity, DeLorean Motor Company aims to produce between one and two vehicles per week – and each example is expected to carry a price-tag of around $100,000 (roughly £76,000).
The 1980s DeLorean DMC-12 used a Renault-sourced 2.8-litre V6 petrol engine, which developed 130bhp and 207N of torque. The old engine is unlikely to make it into the updated variant, though – it is rumoured that the refreshed DeLorean will use a new 350bhp 3.5-litre V6 engine, although the source of the powertrain remains unknown.
DeLorean will also update the old DMC-12's chassis, technology and interior, adding new suspension, better brakes, modern headlamps, cruise control, power steering and an air conditioning system that actually works – all of which should make the car more driveable on modern roads.
Would you pay £76,000 for an updated DeLorean DMC-12? Let us know in the comments section below…