Tata to rename Zica supermini after Zika virus outbreak
Tata has announced it will rename new 'Zica' due to its similarity to the world health epidemic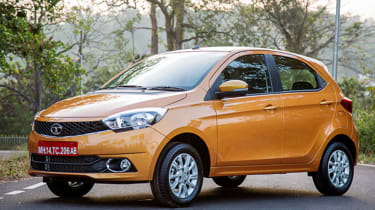 Indian carmaker Tata Motors has officially confirmed it will rebrand its Zica supermini. The small car, set for a glittering public debut at the 2016 New Delhi Auto Expo, has to be tweaked because its name is too similar to the Zika virus epidemic.
"Empathizing with the hardships being caused by the recent 'Zika' virus outbreak across many countries, Tata Motors, as a socially responsible company, has decided to re-brand the car".
The Zika virus hit the headlines recently after causing severe birth defects in children whose mothers catch it while pregnant. While it's not fatal, it leads to microcephaly – abnormally small heads with stunted brain development. The disease has recently been declared a world health emergency on the same scale as the Ebola virus.
Tata says the Zica name has no relation to the virus and is short for 'zippy car', but acknowledged it will need to be rebranded to remvoe all association with the virus.
The supermini is due to go on show at the Delhi Auto Expo on February 4, but Tata confirmed it "carries the 'Zica' label for the duration of the event", until a new name can be announced "after a few weeks".
It's not known what would happen to sales now the name will be changed – but the Tata Zica has already received rave reviews from the Indian press, praising the car's styling, smart dash design and peppy 1.2-litre 'Revotron' engine. Tata Motors is a giant multinational corporation and owns Jaguar and Land Rover, amongst others.
Tata Motors isn't alone in having an unfortunately named car, although it's the first we've heard of that ties up with a global epidemic. Vauxhall's 'Nova' famously translated into Spanish as 'doesn't go', for example.
Is the name of a car important to you when buying? Let us know in the comments below...