Pre-reg sales rife in Europe as makers re-export cars for profit
True scale revealed of makers de-registering cars from one market to sell elsewhere in EU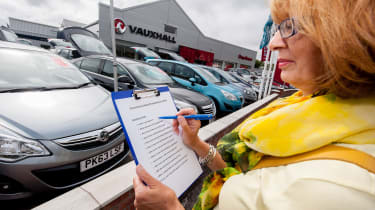 European motor manufacturers are registering cars in two separate countries to increase profits and take advantage of the huge gap in car prices throughout the EU.
Auto Express reported in Issue 1,404 how up to 15 per cent of the UK's new cars in 2015 could have been pre-registered, warping new car sales figures. And data reveals the practice is widespread in Europe, too.
As significant price gaps exist in the EU – new cars are 30 per cent more expensive in Sweden than in Bulgaria, for example – it can be very profitable to export pre-registered cars to another country to sell them as "young new" for a profit. This is known as re-exporting, and before it's shipped abroad, the car must be de-registered in its original country.
In Belgium, where the practice has been common for decades, Renault has pushed its use to extreme levels according to local manufacturers association Febiac.
Its figures show 8,226 of the 28,240 Renault passenger cars sold during the first quarter of 2015 were de-registered within 30 days, meaning 29 per cent had an imaginary buyer. Deduct de-registrations from all manufacturers, and Renault drops from market leader in Belgium to fourth. Renault Europe declined to comment on the issue.
Similarly, Hyundai de-registered 10 per cent of its Belgian stock and said it was to meet sales targets and obtain bonuses to offer discounts to customers.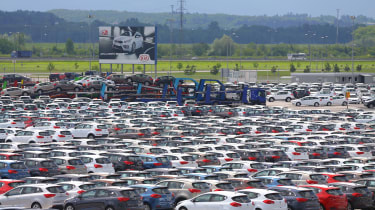 Eastern Europe is the biggest market for re-exporting, with members of local manufacturers associations in Latvia, Estonia, Lithuania and Bulgaria we spoke to all confirming the practice and reporting rates of de-registration ranging between 20 and 30 per cent of new car sales.
It's the same in the Czech Republic, where local company Medea publishes monthly figures removing vehicles that were de-registered within 90 days. In January 2015, Ford re-exported 61 per cent of its new cars, SEAT 53 per cent and Volkswagen 26 per cent. Some models are completely re-exported: last July, the Ford Fiesta, Seat Ibiza, Audi Q3 and Fiat 500L had zero local sales left when re-exports were deducted.
Selling to short-term rental companies is another method to meet targets. Fiat holds 18 per cent of the short-term rental sale market in France, against a share of just  1.3 per cent of private sales. Volkswagen, with European sales down 21 per cent in January, has returned a 700 per cent rise year-on-year on French short-term rentals.
Jacques Rivoal, Volkswagen Group France president, said: "We have decided to be more reactive by taking our share in this channel early in the year rather than wait for others to gain. There is a real demand for young used cars and we have no issue absorbing ex-short-term rentals in our used network."
Have you ever bought a pre-reg car? Let us know in the comments below...