Over 50 per cent of new cars sold with autonomous safety kit
The self-driving revolution could be closer than we think as SMMT research discovers most new cars feature autonomous safety technology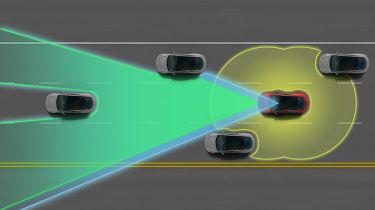 Every new car buyer in Britain benefits from safety kit fitted to their car – but recent data from the Society of Motor Manufacturers and Traders (SMMT) shows that more people than ever are buying cars with advanced, autonomous technology fitted. Adaptive cruise control, automatic emergency braking and blind spot monitoring are just three of these features and combined they could save up to 25,000 serious accidents a year from happening.
The study, conducted by the SMMT and JATO Dynamics, shows 58.1 per cent of new cars registered in 2015 were fitted with collision warning systems, which monitor the road ahead of the car and alert the driver to impending impacts. Five years ago, this was barely even registering on buyer's minds, with just 6.8% of new cars featuring the tech.
The latest big advancement has been the widespread adoption of autonomous emergency braking – which applies the brakes if it detects an imminent collision. This was fitted to 39 per cent of new cars registered in 2015 – over a million in total – and 18 per cent paid no extra for the feature, having it fitted as standard.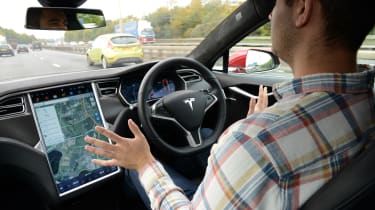 Blind-spot monitoring – another incredibly useful tool, featured on over a third of new cars, and adaptive cruise control was fitted to 31.7 per cent. Five years ago, adaptive cruise control was only an option on less than ten per cent of new cars.
The SMMT believes the widespread adoption of this autonomous tech could seriously improve safety on the roads, saving as many as 2,500 lives per year by 2030. It's not just drivers of these specific cars who will benefit - the roads will be made safer for all vehicles, even those without autonomous tech fitted.
• Driverless cars to be tested on UK roads
The society endorses fully driverless vehicles too, saying "Besides improving safety, these cars also offer the scope to reduce congestion induced stress, providing drivers with more free time and allowing them to be more productive." It estimates simply allowing motorists to multitask behind the wheel while the car drives itself could save the UK consumers as much as £40 billion.
Mike Hawes, chief executive of the SMMT, said "Fully driverless cars are still a long way off from everyday use, but this data shows advanced autonomous technology is already making its way into the majority of new cars. Connected and autonomous cars will transform our society – vastly improving safety and reducing congestion and emissions."
Does your car have any autonomous tech fitted? Let us know what you think of it in the comments below...