"Room for improvement at too many official dealer networks"
Editor Graham Hope looks at our Driver Power results and wonders why aftersales care often doesn't match up to the cars being sold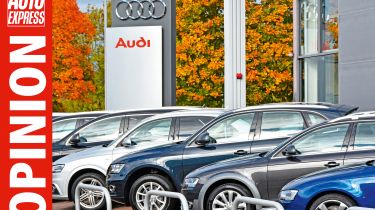 Everyone has very different criteria when in the market for a new car. For some, reliability is most important. For others, running costs. Maybe styling is key for you. Or performance, perhaps?
Aftersales care, I'd wager, rarely figures too prominently in the thinking of many potential buyers caught up in the excitement of choosing a shiny new motor. But it should. Because as our Watchdog pages prove on a weekly basis, when things go wrong, the service you receive from your dealer can become the single most important factor in shaping your perception of a brand.
This week, our Ultimate Guide To Buying A Car features our countdown of the top official dealer networks compiled from feedback supplied in our Driver Power survey of around 50,000 motorists. And as ever, the results are extremely insightful.
Would you believe, for example, that the biggest complaint a huge one in four have about their local dealer is that their phone calls are never returned? It's incomprehensible that such a basic failing should cause so much grief, yet it's a phenomenon I've experienced myself on a number of occasions.
And of course, when you do get through, dealers are very quick to capture your data and subsequently bombard you with pointless texts and E-mails about promotions and events you don't want to attend. Hugely frustrating, isn't it?
Even more concerning is the presence of some of the most significant names in the UK car market in the bottom third of our dealer countdown. The likes of MINI, Vauxhall, BMW, Land Rover, Audi, Ford, Volkswagen and Nissan are big sellers here in Britain, but frankly in many cases their garages simply aren't as good as their cars.
If you're considering buying, I'd urge you to look at our results before signing on the dotted line.
Have you had a bad experience with aftersales? Let us know below..