"What's the average age of our cars?"
Armed with data from the SMMT and CAP, Mike Rutherford's been looking into our car-buying habits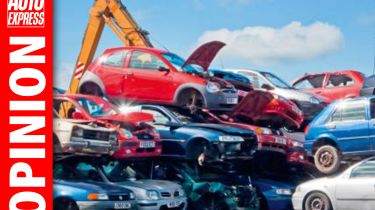 If you have a set of vehicle keys about your person, plus a registered car that fits snugly around them, then congratulations, you're one in 30 million. You belong to an inclusive club which the majority of adults in the UK have voluntarily joined - thanks to their proud status as vehicle owners, renters, leasers or company car users.
But what models do we tend to drive, how often do we change them, and what's the average age of our cars? Currently, almost 5m of us have ended up with Volkswagen Group products (predominantly VWs and Audis, but also Skodas, SEATs and the occasional Bentley or Lamborghini). Nearer 4m are behind the wheel of Fords, while drivers of Vauxhalls hover around the 3.5m mark. BMWs, plus the German firm's MINIs, have been adopted by 3m customers, while a similar number use products from the Renault-Nissan Alliance.
• "VW has a 300+ model range - that's unmanageable"
These five manufacturing groups and companies account for around 19m of the approximately 30m cars on our roads. The remainder comprises (in order) Peugeot/Citroens, Hyundai-Kias, Toyotas, Mercedes and Smarts, then Fiats/Chryslers/Jeeps and what the Society of Motor Manufacturers and Traders calls 'others'. These are the 200-plus smaller to miniscule British and foreign brands. But the likes of Jaguar Land Rover and Volvo also sit in this class - and are no doubt trying to escape it.
Trade expert CAP says more than 7m cars change hands annually. So a quarter of us opt for a different car every year. How long do they keep going? The 'average vehicle age' is now 7.8 years, reckons the SMMT. But it predicts this will rise to 8.1 years by 2022. Despite the perception that they aren't built to last, the evidence suggests otherwise.
Can you imagine a laptop or a mobile phone lasting for almost a decade? I can't. And neither can many of their manufacturers, who prefer their products to last months rather than years. No wonder Apple is THE most profitable company on the planet, by some margin.
It's a credit to the global auto industry that it adopts a less greedy, more sustainable approach. Spend less than £10k on a world-class VW up! or Skoda Citigo, for example, and it'll almost certainly be around a decade from now. Put another way, it'll devalue by an average £1,000 (or less) annually, or under £3 a day. Now visit your local station and see how far three quid gets you on a train - that'll probably be late, possibly cancelled.
How long do you keep your cars for? Let us know in the comments below...