"Isn't it time our road network was a national priority, too?"
Graham Hope looks at the UK's rail and air strategies and thinks it's about time our road network received the same levels of attention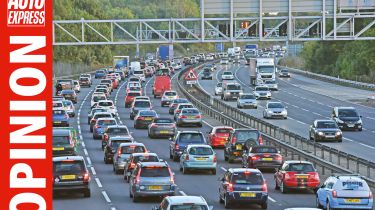 It won't have escaped your notice that the Government last week approved a third runway at London's Heathrow Airport. It's a huge undertaking that could cost nearly £18bn.
This decision, of course, follows the controversial High Speed 2 train line linking London and the north of England. Latest estimates suggest that it could ultimately cost a whopping £90billion.
• "Launching a new car brand is not for the faint-hearted"
Far be it from me to argue against investment in our air and rail infrastructure. I fully accept that it's necessary. But isn't it about time that our road network received similar attention?
Yes, I'm well aware that the Government has trumpeted a record level of investment in upgrading the network. A £15billion Road Investment Strategy was announced in 2014; this money should be spent by 2020.
It's not an insignificant sum, granted, but look at the detail of the plan and it's hard not to be a little concerned. Most of the spending will be concentrated on additional lanes, better junctions and general upgrades. A series of improvements, then, rather than the sort of radical overhaul air and rail passengers will benefit from.
What is surely inarguable is that more must be done. According to a recent Office for National Statistics report, the UK population is likely to grow by around 9.7 million by 2040, to 74.3 million.
Understandably, the amount of traffic will rise, too. The Department for Transport can't predict by how much due to uncertainties such as fuel costs and income growth, but its best case scenario by 2040 is a rise of 19 per cent from 2010 levels. However, it could be as high as 55 per cent. How will we accommodate all these vehicles? We should be addressing this as a matter of urgency, now that our rail and air strategy has been decided.
Do you think our road network should get more investment? Let us know below...