"The BBC suggested the car is the major source of air pollution. It isn't"
Mike Rutherford thinks the car is getting a bad reputation when it comes to air pollution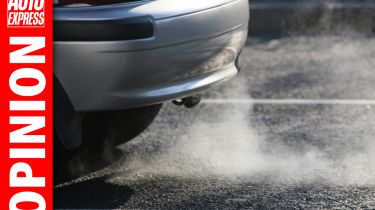 One of the lesser known Monty Python works from the seventies was a sketch featuring a palaeontologist – Miss Anne Elk (John Cleese in drag) – struggling to announce her/his "new" theory. It went: "All brontosauruses are thin at one end, much, much thicker in the middle, and then thin again at the far end."
Wind forward almost half a century and, based on what's been discovered in a "study" just released by clever people at a national university, New Scientist reports: "With only a few cars, traffic flows smoothly. When too many vehicles appear, traffic clogs."
Like the laughable Anne Elk, plus those unintentionally funny uni chaps, I'm happy to state the bleeding obvious, too, by reminding everyone (our state-owned broadcaster in particular) that there are many – far too many to list here – causes of air pollution.
• Government pledges 'to do more' to meet 2040 car emissions target
Yes, it's a hugely important subject the BBC should cover. But how come it's so quick to judge automobiles when talking about the poor quality of the air we breathe?
A few days ago, a national Beeb broadcast reported the Courts have just decided that Government must clean it up. Fair enough.
But what followed was far from fair, because at least one independent BBC presenter gave a firm impression that the motor car, in particular the diesel-engined version, is the major source of air pollution.
Only one problem: it isn't. Why mention offending cars and car makers so much more than other offenders, some of them more serious? Why target one source of air pollution when countless other sources were, at best, barely acknowledged or, at worst, completely ignored?
It's too easy to cynically jump on the bandwagon and infer the people to blame are the overwhelming majority of the population who happen to use cars to get to their workplaces, relatives, shops, leisure centres, etc. And it's equally unacceptable the BBC should target cars while largely ignoring other pollution sources, including agriculture, animals, construction sites, factories, homes, humans, motorcycles, shops, offices, planes, ships, trains, trams and more – much, much more.
I urge the wealthy Beeb or its even wealthier master, the UK Government, to compile a 1-50 ranking of the worst air polluters. And I confidently warn you in advance that modern motor cars owned by working folk like you and I will be nowhere near the top of the league.
Where do you think cars have a bad reputation when it comes to air pollution? Let us know below...