"Could this be the year car dealers finally get their act together?"
2017 could be the year that car dealerships improve more than ever before but they need feedback from you, says Steve Fowler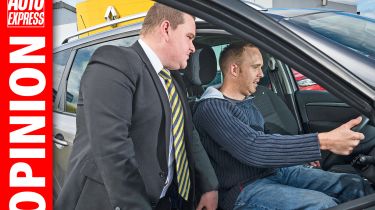 I used to think it was just me. Almost every time I have a reason to pick up the phone and sort something out with my car, I'll end up being frustrated. The past year has been no different.
We have two cars in our household that I'm responsible for: servicing, insurance and (for some strange reason) fuelling, too. And in 2016 we've had issues with a couple of car dealers, both of whom were too busy to call me back so I could book a service.
Sadly, it seems it's not just me, but all too often you, too. The most common gripes, according to the many thousands who take part in our Driver Power customer satisfaction survey, are the lack of response to phone calls and not properly explaining what problems are, yet still charging for them.
The car makers are often telling us how they're putting new programmes into place to improve things, yet there's frequently a disconnect between manufacturers and their dealers. Some are getting it right and improving, but too many others (often those that charge the most) are way off the pace.
You've been reporting back to us on your experiences with your cars and your dealers via Driver Power for the past 15 years – and increasingly the car makers have been listening, using your comments to try and improve things.
This year, we've made some big changes to Driver Power – just as the cars we buy and the way we're buying them are changing fast. 
However, it still relies on you to let us know what you think and our 2017 survey has just gone live, so take the survey to tell us what you like and what you loathe about your car and your dealer. Hopefully, 2017 will be the start of a real focus from the car makers on improving their service to you – we'll tell you who's getting it right in the spring.
Got any gripes about your dealer? Vent your frustration in the comments or take the Driver Power survey here!