Caught by the fuzz! New Bentley captured by police on the M6
Police officer films the upcoming Bentley Continental GT in disguise on the M6 outside Stafford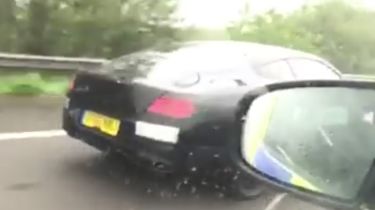 Hello, hello, hello, this is the sort of cop show that we at Auto Express can really get into. You've heard of Police Camera Action, well one of our eagle-eyed traffic police officers has filmed his own version without a delinquent on a moped in sight.
Instead, it's the new Bentley Continental GT that stars. The car is expected to officially arrive in 2018 but was spotted on UK roads for the first time after a quick-thinking police officer filmed a test mule while out on patrol. The new Bentley was caught bang-to-rights travelling along the M6 just outside the town of Stafford.
Officer Mark Bishop was on the slip-road merging northbound onto the motorway at Junction 13 when his police car - driven by a fellow officer, we hasten to add - pulled up behind the Continental GT test mule, which could well have been heading in the direction of Crewe and the Bentley Motors HQ.
The luxury grand tourer was sporting very little in the way of camouflage, with a "black fabric mesh wrap" concealing design elements and styling cues at the front end.
• 2018 Bentley Continental GT spied in Germany
The effort to disguise the front bumper follows a similar approach to when the car was spied on German roads in April, with its identical number plate identifying it as the same model spotted this week.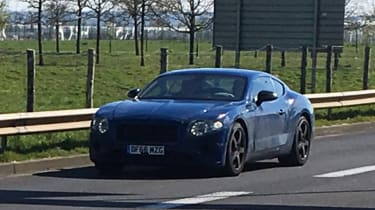 The upcoming Continental GT - which is expected to hit showrooms in 2018 - is set for a major overhaul as Bentley looks to up its game against ever more competitive rivals. Flagship models will be powered by the 600bhp 6.0-litre W12 engine that first appeared in the Bentayga SUV, while CEO Wolfgang Dürheimer is said to be keen on plug-in hybrid and diesel options too.
A significant weight reduction of around 150kg is also anticipated as the car adopts a new aluminium body and fresh chassis as part of its shift to the MSB platform first used on the new Porsche Panamera.
Are you excited to see the 2018 Bentley Continental GT? Let us know below!