UK catalytic converter thefts up tenfold in 2019
The AA has seen a tenfold increase in insurance claims for catalytic converter thefts since the beginning of the year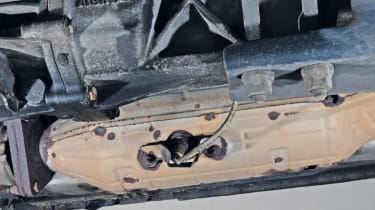 Catalytic converter thefts have increased tenfold since the start of 2019, according to new data.
In January 2019, the AA had eight insurance claims from its customers for catalytic converter thefts. The monthly figure then gradually increased over the course of the year - in October, the latest month on record, there were 79 claims.
• Car thefts reach six-year high
This is in stark contrast to 2018, when the figures fluctuated slightly throughout the year, but never went into double digits. The total number of insurance claims received by the AA for catalytic converter thefts in the first 10 months of 2019 was 255 - during the same period in 2018, there were just 23, rising to 32 for the full year.
 

Month

 

 

Catalytic converter thefts

 

 

Month

 

 

Catalytic converter thefts

 

 

December 2019

 

 

-

 

 

December 2018

 

 

1

 

 

November 2019

 

 

-

 

 

November 2018

 

 

8

 

 

October 2019

 

 

79

 

 

October 2018

 

 

3

 

 

September 2019

 

 

63

 

 

September 2018

 

 

6

 

 

August 2019

 

 

24

 

 

August 2018

 

 

3

 

 

July 2019

 

 

13

 

 

July 2018

 

 

2

 

 

June 2019

 

 

21

 

 

June 2018

 

 

2

 

 

May 2019

 

 

13

 

 

May 2018

 

 

1

 

 

April 2019

 

 

19

 

 

April 2018

 

 

2

 

 

March 2019

 

 

10

 

 

March 2018

 

 

3

 

 

February 2019

 

 

5

 

 

February 2018

 

 

1

 

 

January 2019

 

 

8

 

 

January 2018

 

 

0

 
The reason for this sharp increase in catalytic converter thefts is unknown, but Auto Express understands that some car dealers have been unable to get new catalytic converters in stock over the last few months due to supply chain issues. As a result, some drivers wanting to buy catalytic converters have turned to the online black market, driving up demand for ill-gotten parts.
Traditionally, though, this has not been the most common reason for catalytic converters being stolen. Instead, stolen units are usually shipped overseas where they are stripped for the precious metals contained within them, including palladium, rhodium and platinum.
Victims of catalytic converter theft are often faced with a hefty repair bill. Not only do they have to spend hundreds of pounds on a replacement part, but damage done to the car during the theft - such as electrical wires being cut - means repair bills tend to end up at somewhere between £2,000 and £3,000.
In order to avoid catalytic converter theft - which can happen in a matter of minutes - drivers who don't have access to a locked garage are advised to park their cars in well-lit, populated areas, ideally keeping the exhaust as close to a wall, fence or kerb as possible.
• Surge in vehicle theft sees insurers pay out record amounts
It's also advisable to get a serial number etched on to your catalytic converter - this is a service some dealers offer and is standard practice on most new cars. Plus, if your car's catalytic converter is bolted on, it's worth asking a local garage to weld the bolts, making the unit more difficult to remove.
Janet Connor, managing director of AA insurance services, commented: "A tenfold increase in claims for catalytic converters due to theft is a shocking revelation. Criminals are being bold and brash by stealing converters in broad daylight, as they believe passers-by won't question someone tinkering underneath a car.
"Where possible, drivers should park in a garage or in a well-lit area. Manufacturers have also developed anti-theft devices which can be attached to the fixings and give the converter a unique serial number.
"Concerned drivers should contact their dealer for further information. Scrap dealers and online auction sites have a role to play too, by making appropriate checks to ensure the parts being sold or scrapped have not been illegally gained."
Find out about diesel particulate filters with our complete guide...