Toyota to combat UK catalytic converter theft via covert markings
Toyota and Lexus will be covertly marking 100,000 catalytic converters on older cars to allow the parts to be traced following a theft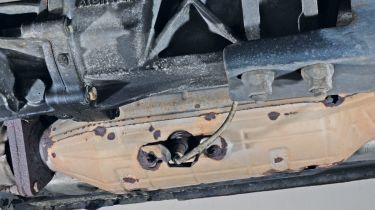 Toyota and Lexus are combatting catalytic converter theft by applying covert markings to 100,000 parts on vulnerable older cars, making it easier for the police to trace stolen components.
Catalytic converter theft is on the rise due to inflated prices of the precious metals contained within. Now, risk management firm Smartwater is providing an initial batch of 50,000 kits to Toyota and Lexus, allowing valuable parts to be covertly marked.
The Japanese firms say their older hybrid models are especially targeted in this type of theft, as their catalysts work less hard than those in the newer electrified models and therefore tend to be in better condition.
Owners of these older cars who want their catalytic converters covertly marked can get in touch with their nearest Toyota or Lexus dealer to book in for the service. Toyota is also giving 20,000 kits to police forces to support their local anti-catalyst theft initiatives, which should help owners who are no longer in contact with the dealer network due to the age of their vehicle. In addition, the AA will be directing drivers to use these services.
Marked components will be able to be identified as stolen when recovered, which should lead to thieves being convicted. Toyota previously developed a 'Catloc' security device that makes it harder for catalytic converters to be removed.
Rob Giles, director of customer services at Toyota GB, said the firm hoped the scheme would not only lead to more arrests, but also make "life harder for those buying the stolen goods".
Catalytic converter thefts on the rise
Catalytic converter thefts are up in the UK as a result of increased black market value fuelled by demand for the precious metals contained within them.
Three-in-10 of all car-related theft claims received by Ageas Insurance is now a catalytic converter theft, whereas it was only around two-in-10 (or one-in-five) before the first national lockdown in March 2020.
Catalytic converters form part of a car's exhaust system and contain precious metals such as platinum, palladium and rhodium. The RAC has pointed out that prices of rhodium hit a record high earlier this year, with the metal having become 200 per cent more valuable since the first lockdown - it's now worth approximately £12,795 per ounce.
The illegal trade of these metals means brazen thieves are jacking up innocent motorists' cars - often in broad daylight - and stealing the devices. These thefts occur on driveways, public streets and even in supermarket car parks.
Drivers who can't park their cars in a garage are advised to use a well lit, residential location. When going away and leaving your car behind, it's advisable to find a car park with CCTV and security patrols.
Find out about diesel particulate filters with our complete guide...