Watchdog: Daytime Running Lights rip-off
Reader Barry Morecombe was amazed at Vauxhall's definition of "Daytime Running Lights" on his new Antara…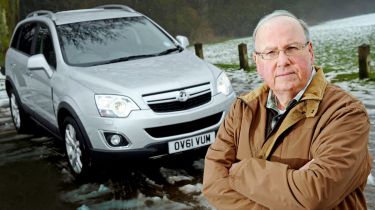 When you hear of daytime running lights (DRLs), you probably think of the sleek banks of LEDs that give cars a stylish, modern look. But if you buy a Vauxhall Antara, the reality is somewhat different.
The company has found an innovative way of cutting the cost of DRLs – and as Barry Morcombe, from North Hinksey, Oxfordshire, discovered, they lose some aesthetic appeal in the process.
Barry was frustrated to find the DRLs on his brand new Antara weren't working, so he went to his dealer. The workshop technician had some good news for Barry – his car was working just as the maker intended. The bad news was that the Antara's version of DRLs only involves switching the regular lights to the Auto function.
Doing so turns on all the lights – head, side, rear and number-plate lamp. And it doesn't just activate them if the car senses it's dark: they're left on all the time.
"This is ridiculous," Barry told us. "The same effect could be achieved on any car just by switching all the lights on. It's certainly not daytime running lights. And how can it be Auto if the lights are turned on all the time? The switch should just be labelled On."
Good points, but we couldn't believe that Vauxhall actually designed the car to work this way. We assumed the daytime running lights and the Auto function on Barry's Antara were broken, and the technician had got the wrong end of the stick. Incredibly, we were wrong.
Vauxhall said: "That's how daytime running lights work on the Antara, and they can be turned off. Although these lights work differently to the other cars in our range, they comply with European DRL regulations."
Auto Express road test editor Ross Pinnock said: "Automatic suggests it should work without having to do anything manually. Although this set-up technically fulfils the EU's requirements for DRLs, it's cheeky at best and misleading at worst."
The problem Barry's Antara was advertised as having daytime running lights, but they didn't seem to work. His dealer told him to just switch all the lights on.
Vauxhall's response Vauxhall told us that Barry's Antara is working properly, and that on this car, "DRLs" means having the head and side lights switched on permanently.
Legal advice "This does sound like it could be misleading," said Holly McAllister of industry regulator Motor Codes. "Advertising is covered by our new car code, so this is definitely something we can look to investigate."
Our verdict Vauxhall may be adhering to the letter of the law, but customers will feel misled. It's hard to understand why it wants to advertise the Antara as having DRLs at all, and risk having this set-up exposed.
Do you have a motoring problem that needs investigating? We're here to help… E-mail mail@autoexpress.co.uk or Tweet us @AutoExpress.