Vauxhall Antara (2012-2017) review
Although dated, the Vauxhall Antara still represents a lot of car for the money
Despite having macho looks and a reasonable price tag, the Vauxhall Antara has struggled to make a significant impact on the increasingly competitive UK SUV market.
In 2012, Vauxhall gave the Antara a facelift, added a new engine to the range and updated the interior. However, a reputation for poor reliability means the Antara has been overshadowed by more competitive rivals such as the Ford Kuga, Volkswagen Tiguan, Toyota RAV-4 and Hyundai Santa Fe.
There are only three trim levels in the Vauxhall Antara range, Exclusiv, Diamond and SE Nav. The only petrol engine available is an elderly 2.4-litre unit, which is exclusive to the Exclusiv trim. The rest of the Antara range is powered by the more satisfactory 2.2-litre CDTi diesel unit.
Across the range, the Vauxhall Antara is available with two or four-wheel-drive, and all models benefit from decent hill decent control.
Engines, performance and drive
Behind the wheel of the Vauxhall Antara, it's easy to get comfortable thanks to the diverse and adjustable driver's seat. What's more, the high driving position also gives you a great view out.
There are two engines available in the Vauxhall Antara range. The first is a 2.4-litre 16-valve petrol, which produces 165bhp, while the second is a 2.2-litre CDTi which is available with either 161bhp or 182bhp.
The front-wheel-drive versions of the Vauxhall Antara come with a six-speed manual gearbox, while 4x4 models are also available with a six-speed automatic system.
In terms of driving, the Antara offers precise steering and good body control. However, it simply can't match the Ford Kuga or Volkswagen Tiguan in terms of driver enjoyment.
MPG, CO2 and Running Costs
While the Vauxhall Antara is cheap to buy and packed full of standard equipment, its major downside is the thirst. It's expensive to run, and even when fitted with start-stop technology, it's pretty dirty when compared to its rivals.
The 2.4-litre petrol does 32.1mpg and emits 206g/km of CO2 - the 2.2-litre CDTi is hardly better. The 182bhp car will achieve 42.2mpg and emit 177g/km, while the 161bhp unit achieves 44.1 mpg with 167g/km of CO2.
What's astonishing though, is when fitted with the automatic gearbox and 4x4 transmission, the Vauxhall Antara manages a poor 35.2mpg and emits an equally abysmal 225g/km of CO2 - to put it into perspective, this is only 50g/km less than a Ferrari 458.
To add insult to injury, residual values are poor, and our experts predict that the Vauxhall Antara will struggle to return 40 per cent of its value after three years.
Interior, design and technology
Unlike the unimaginative exterior of the Volkswagen Tiguan, the Vauxhall Antara has striking looks, but you'd be hard pressed to call it pretty.
When it facelifted the car in 2012, Vauxhall brought the Antara slightly more up to date with the manufacturer's new corporate grille and large Griffin logo, so its face fits in with the rest of the Vauxhall range.
Interior space has also been improved, and the latest Vauxhall Antara has lots of extra storage space compared to the pre-facelift model. The standard of the interior and the instruments have also improved, so it's certainly a step-up over the previous generation car. Sadly though, the quality isn't there compared to its rivals.
Air conditioning, heated front seats, front fog lights and tinted windows come as standard across the Vauxhall Antara range, as does Bluetooth connectivity. Exclusiv and Diamond models get 17-inch alloys, while SE Nav cars benefit from 19-inch ones. SE Nav cars also benefit from Xenon headlamps, a sat-nav (unsurprisingly), rain sensitive wipers and electronic climate control.
Practicality, comfort and boot space
Where the Antara lags behind its rivals in most other departments, it won't come as a surprise that it also trails them in the practicality stakes.
The boot of the Antara has a capacity of 420 litres, which expand to 1,420 litres when the rear seats are folded. Like the rest of the car, it isn't bad, but it lags behind rivals such as the Toyota RAV-4 and Hyundai Santa Fe which are a lot more practical.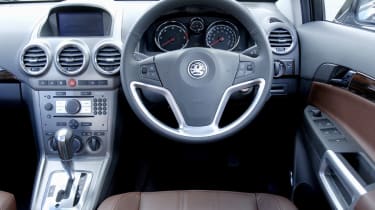 Still, the Vauxhall Antara comes with a large tailgate, which has a low loading lip - so putting large items of luggage in isn't a problem at all. Plus, SE Nav models come with a folding front passenger seat as standard, so you can carry even larger items.
The interior of the Vauxhall Antara is pretty spacious and there's plenty of headroom and legroom in the back. As well as a foldout armrest, you'll find useful storage cubbies and lidded compartments, too.
The Vauxhall Antara has yet to be tested by Euro NCAP, but all versions come with lots of safety equipment, which includes front, side and curtain airbags.
There are also a whole host of driver aids which include electronic stability control, anti-lock brakes, hill start assistant and adaptive brake lights which flash rapidly during an emergency stop.
As a manufacturer, Vauxhall didn't rank in the top 33 manufacturers of our 2014 Driver Power customer satisfaction survey, and the Antara didn't feature in our top 150 cars, either.
For an alternative review of the latest Vauxhall Antara 4x4 visit our sister site carbuyer.co.uk