Vauxhall Antara vs rivals
It's boom time in the 4x4 class, with the new Vauxhall Antara and Citroen C-Crosser being joined by a revised Jeep and Nissan. We test them on and off road to see which we would buy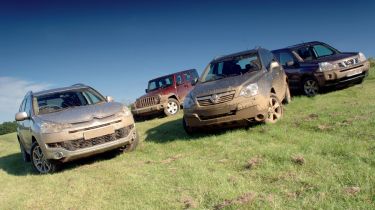 With all the hype surrounding climate change, you'd be forgiven for thinking that now is not the best time to launch a new off-roader. Yet the market for compact SUVs has never been busier.
This week we've lined up the UK's four latest arrivals: two are brand new from firms with relatively limited experience in the 4x4 class, while the other pair are replacements for much loved originals that have been around for years.
Contrary to popular belief, car makers don't leap on bandwagons without considering the consequences. So, to find two doing so at the same time is very unusual – especially in a sector which is supposedly in decline. However, companies as big as Vauxhall and Citroen rarely get it wrong.
The former's Antara enters a segment that the Frontera vacated four years ago. It has much in common with Chevrolet's Captiva (which we tested in Issue 968) and prices start at less than £20,000, but it has no seven-seat option and only two powerplants are on offer.
Citroen C-Crosser buyers, meanwhile, have just one engine choice, although they do get an extra pair of seats. Of course, the C-Crosser, which is basically a rebodied Mitsubishi Outlander, is a step into uncharted territory for the firm, which has no 4x4 track record at all. This contrasts sharply with Jeep, which pioneered the sector. Its Wrangler can trace its origins back to the 1941 Willys Jeep, but the new version has five doors, a diesel engine and automatic gearbox for the first time ever.
Our last contender is the Nissan X-Trail. Despite its familiar looks, it's recently been redesigned and is now substantially bigger, smoother and better to drive. But which should you choose? We put them through their paces to bring you this definitive test.
Verdict
Sorting out which car finishes first and last here is easy – it's the middle order that poses problems. However, we can't help feeling disappointed with both newcomers, the Vauxhall Antara and the Citroen C-Crosser. Neither has what it takes to beat the Nissan X-Trail.
The Vauxhall is quite upmarket – a deliberate attempt to distance itself from the Chevy Captiva – but doesn't have a wide enough range of abilities, while France's first SUV, a rebadged Mitsubishi Outlander, lacks Citroen's usual panache. Both are way too pricey, as well. Yet they're better options than Jeep's Wrangler Unlimited. Crude and underdeveloped, it feels 20 years out of date. So in this four-way test, the result is a clear victory for the X-Trail. Frustratingly, Nissan has played it very safe with the update, but this is still a great, well priced and family-friendly SUV. Highly recommended.