Watchdog: Unfair MoT failures
Roadworthy Mitsubishi Evo fails its MoT on a technicality, because of a poorly-worded rule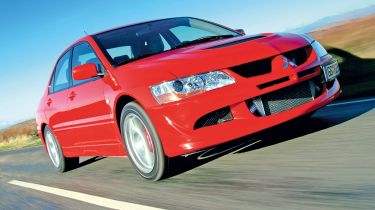 Cars are failing the MoT test on an obscure technicality despite being roadworthy, Auto Express has learned. Reader Timothy Walsh was gobsmacked when his pride and joy – a 2004 Mitsubishi Evolution VIII – was declared unsafe to drive after its annual check-up.
The tester told Timothy, from Banbridge, Co Down, that it had failed because the car's factory-fitted HID headlamps did not have washers and a self-levelling system – both of which are required on new cars with HID lights under type approval laws that came into effect in 2010.
But Timothy's car was built in 2004, long before the regulations were introduced. "How can a car built in 2004 meet regulations introduced six years later? It's ridiculous!" said Timothy, who now faces the prospect of paying to replace perfectly good headlamps before getting his Mitsubishi retested. The problem is down to the wording of MoT guidelines issued by Northern Ireland's Driver and Vehicle Agency (DVA).
The section on HID lamps is slightly different to the one issued by the Vehicle and Operator Services Agency (VOSA) to garages in England, Scotland and Wales. VOSA's states: "A car with HID lights MAY also have headlight washers and self levelling which must be checked and in working order if fitted." The DVA's states: "A car with HID lights MUST have headlight washers and self levelling..."
We pointed out the discrepancy to the DVA and asked if the wording would be changed so cars couldn't be failed for not meeting regulations introduced many years after they were made. But a spokeswoman said the DVA believed its regulations were right and that the same test standard would be applied by garages in the rest of Britain.
A spokesman for VOSA denied that this was the case. He said: "If a car has the washing and self-levelling system then we'll check it and it will need to be in full working order. If it's not there, we don't check it – we give the owner the benefit of the doubt."
The problem The wording of new MoT regulations meant Timothy Walsh's Mitsubishi failed its MoT on a technicality, despite being perfectly roadworthy.
DVA's response A spokeswoman said: "The DVA tester's manual accurately reflects the legal requirements for HID headlamps and no changes are envisaged."
Legal advice Timothy can appeal against the examiners' decision and have the car re-examined. If the new examiner upholds the appeal, the car will get a test certificate and the DVA may refund part or all of the fee.
Our verdict It's absurd to expect cars to comply with regulations introduced after they were built. We suspect the DVA guidelines have been incorrectly worded, but the agency doesn't want to admit the mistake.
Do you have a motoring problem that needs investigating? We're here to help… E-mail mail@autoexpress.co.uk or Tweet us @AutoExpress.