Watchdog: Why dealers aren't fixing your car
Our industry insider explains why hi-tech cars are making it harder than ever for garages to diagnose faults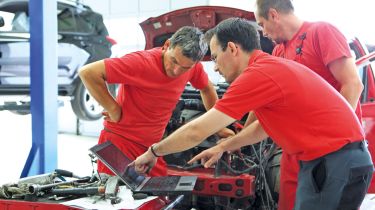 Dealers failing to diagnose faults was the single biggest gripe of our 2012 Driver Power satisfaction survey. It's easy to see why this would annoy drivers – no one wants to make multiple visits to their local workshop to get a problem resolved.
But what's got us concerned is how widespread this issue is – it was the main complaint for an incredible 28 per cent of those who were unhappy with their dealers.
We got in touch with an anonymous insider who works as a service manager in a dealer for a major manufacturer to find out why this issue is so common.
It won't surprise many to know that part of the problem is with how complex modern cars are. "In the old days it was simple," our insider explains. "If you had an engine misfire, it was probably down to the spark plugs. These days, you plug in the diagnostic equipment and you could get 10 fault codes – how do you know which one to fix?"
Cars are so technologically complex that they are moving beyond the ability of technicians to fix them. And that has created a convoluted system, where the maker watches over every repair job like Big Brother.
"As soon as you connect the laptop diagnostic equipment, it automatically logs a session with the manufacturer and they monitor and record everything," our insider tells us. If the laptop shows no fault codes – as it will do with intermittent faults – then the technicians can't do anything.
If it shows a complex fault code, or lots of codes, then experts at the car maker's HQ will get involved and start suggesting fixes remotely.
"The engineering whizz kids look through the diagnostics and suggest remedies," says our insider. It's a complex process, and there's usually a middleman passing messages between the dealer technicians and the experts. "We try the suggested repairs and see if they work, and if they don't we have to start the process all over again."
Our insider tells us dealers are losing their independence. "In the old days, you could authorise most warranty work in-house. Now, you need the manufacturer to specifically authorise all warranty repairs," he explains.
And with warranty repairs, there's pressure to do the job cheaply rather than well. "With a warranty, you are dealing with a manufacturer's money and it'll go for the most cost-effective fix," our insider says. This explains why so many cars have faults that recur shortly after leaving a dealer.
"We don't get it right all the time, but you can't criticise the dealer or the technicians for that," our insider says. "The cars have moved so far beyond what you can expect us to fix first time."
The problem, according to our insider, lies with the manufacturer. "We need much better access to technical support," he says. He adds that manufacturers – and sales staff – should also manage customer expectations better.
"Cars are more reliable than ever, but if something goes wrong it's harder to diagnose. It can take a few attempts to get to the bottom of a problem. Customers easily forget all the times we actually fix things on the first attempt."