Watchdog: Reader charged £150 for not parking
Private parking firm recorded our reader on CCTV, got his details from the DVLA and is now chasing him for money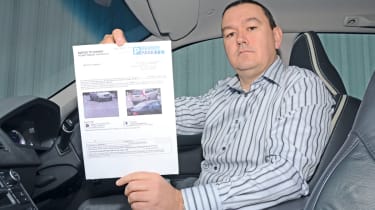 You'd have thought that the 1 October clamping ban would force private parking companies to behave – but you'd be wrong.
Take the case of Phil Jenkins. He drove in and out of a private car park without parking up and getting out of the car – but is now being chased for a £150 charge.
Phil, from Odiham, Hampshire, was on holiday in Perranporth, Cornwall, when he drove into the car park of the Perran Bay nursing home. "I saw the sign inside the car park that said it would cost £80, so obviously I decided against parking there," explained Phil. "I reversed my car and parked in another car park."
But he soon received a letter from Premier Park Ltd, demanding £100 for using the car park after his car was seen on CCTV.
He immediately wrote back to the company, explaining that he didn't actually use one of the parking spaces, and so couldn't be liable for any charge. "I was only inside the car park for three minutes in total," Phil told us.
That doesn't seem to matter to Premier Park, which has now upped the charge to £150 and passed it to a debt collector.
Phil said: "They're trying to bully me into paying. I contacted the debt collector, who refused to talk – although I was told if I was willing to settle immediately, the bill would be cut to £120."
However, Phil doesn't need to respond to these demands at all. As a Department for Transport spokeswoman told Auto Express: "Charges from a private parking company can only be enforced in court." Premier Park would need to prove to a judge that Phil entered into and breached a contract. Then it would have to prove that the £150 it's claiming is reasonable and proportionate.
British Parking Association (BPA) member Premier Park would have trouble proving either, since the BPA's Code of Practice states "operators must allow the driver a 'reasonable grace period' in which to decide if they are going to stay or go and a 'reasonable period' to leave."
Nobody at Premier Park Ltd has been available to speak to us about Phil's case so far.
Phil's case: At a glance
The problem Phil Jenkins entered a car park, but left as soon as he saw there was an £80 charge. Premier Park then billed him £100 after filming his registration on CCTV.
The response Premier Park increased the bill to £150, despite Phil explaining he hadn't actually used the car park. The company has yet to respond to our calls.
Legal advice Private parking companies are not allowed to fine motorists. They can claim 'reasonable and proportionate' costs for breach of contract – but they have to take the driver to court and prove that in front of a judge.
Our verdict It's unacceptable that Phil is being hounded for any money – let alone such a large amount – when he didn't even use the car park. Behaviour like this is what gives private parking companies a bad name.
Do you have a motoring problem that needs investigating? We're here to help… E-mail mail@autoexpress.co.uk or Tweet us @AutoExpress.