UK's worst excuses for a hard shoulder motorway stop
The Highways Agency reveals the most inappropriate excuses for illegally pulling over on Motorways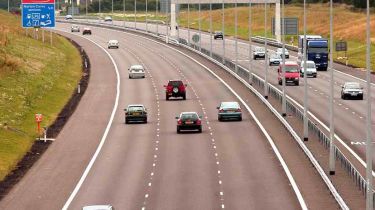 The Highways Agency has revealed the 10 most inappropriate reasons given for motorists stopping on the motorway's hard shoulder illegally.
One was listening to the Adele song 'Set Fire To The Rain' and claimed to have mistaken the word 'fire' as it flashed up on the display for a warning light informing him his car was ablaze.
Other reasons included people trying to sell their cars, people picking wildflowers and one driver even pulled over to renew their car insurance as they had suddenly realised it was about to run out.
• Road rage and the science behind it
The Agency revealed that between July and September last year a total of 2,062 drivers had stopped on the hard shoulder when there was no emergency, which is illegal.
It also revealed that driving under a red X sign, which is displayed when the lane ahead is closed is also illegal.
Jamie Hassall, Highways Agency national enforcement co-ordinator, said: "Every day, millions of people use our motorways. Most of them use the hard shoulder correctly and don't ignore red X's, but we are appealing to the few who put themselves, other road users, and those working on motorways at risk.
"Where the hard shoulder is used as an additional traffic lane at peak times, you can only drive on it if there is a speed limit over it. When a red X is displayed over any lane, it's simple – don't drive on it."
The 10 worst excuses for an illeagal hard shoulder stop
Ten of the most inappropriate reasons given to traffic officers by drivers who have stopped on the hard shoulder in a non-emergency situation are detailed below...
• One motorist pulled over because they saw 'fire' on their dashboard display, it later turned out it was the name of the Adele track they were listening to.• One motorist parked up and fell asleep on the M6.• People stopping to read a map or check their sat-navs.• Traffic officers stopped with two cars on the hard shoulder – the owners were half way through the selling and buying process for one of the cars.• One driver realised their car insurance policy was up for renewal – they were ringing around for quotes to renew.• A group of motorcyclists parked on the hard shoulder on the M1 to review their route and have a drink.• Taxi drivers waiting on the hard shoulder around Heathrow airport for their client's flights to arrive.• A mobile phone operator, stopping at regular intervals in their private car carrying out signal tests on the hard shoulder.• A driver who stopped to pick flowers.• Have you broken down Sir? No, came the reply, we are taking pictures of our new born grandchild (in their open top sports car) as it is a lovely day.
We love the story of the driver who thought the word 'fire' in a song title was a warning light that meant his car was on fire. Can you think of any other song titles that might lead to make a similar mistake in your car? Tell us on Twitter, on Facebook or in the comments section below...