128mph in a 30mph zone! UK's worst speeders revealed
Highest speeds recorded on safety cameras revealed with two motorists hitting 146mph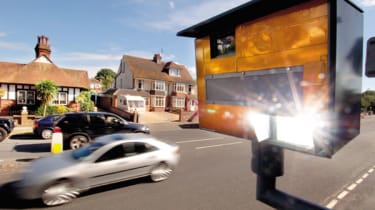 The worst speeding drivers caught on safety cameras across England and Wales have been revealed, with two clocking up 146mph.
Caught on the M25 in Kent, the two motorists were travelling at twice the legal speed limit before being stopped by Kent police.
The data, revealed by the Institute of Advanced Motorists following a Freedom of Information request, also showed that one motorist was caught doing 128mph in a 30mph zone - exceeding the limit by 98mph.
• Buy fuel on your phone with new app
Of the 36 police forces that responded to the IAM, all but six of them had recorded at least one instance of a driver speeding at over 110mph.
Wales' top speeder was an individual recorded at 136mph on the A5 Ty Nant to Dinmael road in Conway, which has a 60mph limit.
The highest figure recorded in a 50mph zone was 120mph, by Nottinghamshire Police on the A631 Beckingham road. And the worst speed caught on a 40mph road was 115mph on A10 Great Cambridge Road in Cheshunt, Hertfordshire.
• Call for stricter regulation of car write-offs
Sarah Sillars, IAM chief executive officer, said: "It is disheartening to say the least that some road users are showing such disregard for the safety of all other road users – pedestrians, cyclists, motorcyclists and other drivers.
"At speeds of 140mph an individual is travelling at nearly two-and-a-half miles a minute. At that speed it is simply impossible to react to anything that might happen in front of you."
Do we need harsher penalties to deter speeding drivers? Tell us your thoughts in the comments section below...