Budget 2015: new road repair fund and car tax overhaul
George Osborne announces a new road improvement fund with VED car tax paying directly for road repairs
"Every single penny" raised by vehicle excise duty will go into a new road fund to pay exclusively for highways maintenance by the end of the decade. George Osborne revealed the creation of the road fund in his July 8 Budget in one of the biggest reforms to motoring in recent years.
Osborne said: "We will create a new roads fund from the end of this decade and every single penny raised in vehicle excise duty will go into that fund to pay for roads. The tax paid on people's cars will be used on the roads they drive on. It's a fairer tax system for motorists."
Vehicle excise duty will also be overhauled from 2017 because figures show that under the current scheme three quarters of all new cars would be exempt.
• Car tax: everything you need to know
The 2017 system will see new cars paying based on updated emissions ratings that take new technology such as hybrids and pure-electric cars into account. After the first year, there will be three duty bands - zero emission, standard and premium.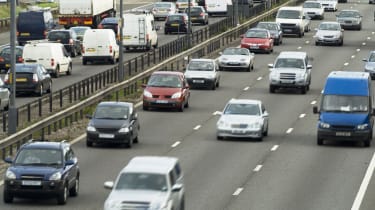 No extra revenue will be raised by the new system but Osborne believes it'll be "more secure" and fairer, too.
Osborne said it's not right that those who can afford new cars pay no tax while those who can only afford as used vehicle have to shell out for tax when both are using the roads.
Fuel duty will also be frozen for the rest of the year, as previously announced, while the time limit on having the first MoT carried out will be stretched from three to four years, saving motorists "billions".
Budget 2015: reaction
Commenting on the budget, Steve Gooding, director of the RAC Foundation, said: "The Chancellor has seen the writing on the wall. His VED income is set to fall sharply as cars get greener and he has acted to avoid that. Costs for many drivers will rise, but two things help offset the financial pain. One is that new car prices have dropped in real terms over many years and the other is that money raised from VED will be ring-fenced for road investment, something not seen since the 1930s."
New VED road tax bands from April 2017
The new VED rates affect cars registered from 1 April 2017. The first year rates will continue to be set according to CO2 emissions although only zero-emission cars will be exempt from paying.
After the first year, a flat standard rate of £140 a year applies – although zero-emission vehicles continue to be free. Cars with a list price above £40,000 will attract a supplement of £310 on their standard charge for the first five years. All cars that were first registered before the new system comes into effect remain on the existing VED scale which will not change.
VED tax bands: April 2017 onwards: table
VED car tax bands for cars first registered from 2017 onwards
Emissions (g/km of CO2)
First year rate
Standard rate
0
£0
£0
1-50
£10
£140
51-75
£25
76-90
£100
91-100
£120
101-110
£140
111-130
£160
131-150
£200
151-170
£500
171-190
£800
191-225
£1,200
226-255
£1,700
Over 255
£2,000
Cars above £40,000 pay £310 annual supplement for five years
History of Vehicle Excise Duty in the UK
• 1889 – Vehicle Excise Duty first introduced.
• 1909 - In the 'People's Budget' David Lloyd George announced that the proceeds of VED would be used to fund the building and maintenance of the road network.
• 1920 – The terms Road Fund and Road Fund Licence came into existence.
• 1936 – Ring-fencing of the Road Fund ended by the Finance Act.
• 2014 – 69% of new cars registered in Great Britain were exempt from VED in their first year on the road because they emitted CO2 of less than 131g/km and fell into bands A-D.
• 2013/14 - VED raised £6.1 billion with the money going into the Treasury's general consolidated fund.
• 2017 – New cars to be charged VED with no first year exemption with new rates emissions ratings introduced for updated tech.
• 2020 – By the end of the decade, all VED paid will be ring-fenced and used for road building, maintenance and repairs.
What do you think of the changes affecting motorists in the 2015 budget? Let us know in the comments section below...