New measures aim to tackle car insurance fraud
Sharing of best practices and insurance data among moves welcomed by the Government to curb insurance fraud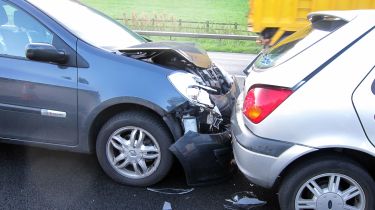 The UK Government has welcomed a new set of measures by the Insurance Taskforce (IFT) to tackle vehicle insurance fraud within the UK.
The recommendations from IFT aim to encourage greater use of insurance data sharing, as well as collaboration between regulatory bodies and the insurance sector to curb the number of insurance scams occurring the UK.
• Best car insurance companies
Figures from the Insurance Fraud Bureau suggest Cash for Crash scams – where fraudulent motorists purposefully force others to crash into them in the hope of claiming insurance compensation - cost UK insurance providers £336 million in 2015.
To combat this, the IFT has asked insurance and anti-fraud organisations to start sharing their data and best practices with each other. The idea is that the more information each provider has, the more equipped they are in determining a fraudulent claim.
Moves to combat fradulent whiplash claims
Another common insurance scam is claiming for non-existent whiplash injuries. Whiplash claims cost the UK around £2billion a year, and add £90 to the price of the average car insurance policy. The UK Government has already taken steps to lower whiplash claims by removing the right to general damages for soft tissue injuries, as well as increasing the upper limit for the small claims court for personal injury claims from £1,00 to £5,000.
The IFT, however, argues that more steps need to be taken. The organisation is calling for more legal changes to reduce the number of insurance scams, while simultaneously asking for the insurance industry to not settle for cash compensation, but to take a more robust approach in defending claims.
Further propositions made by the IFT include making insurance applications and claims forms easier to understand, while another proposed the launch of further anti-fraud campaigns.
The Insurance Fraud Taskforce was created by the Government in 2015 with the purpose of fighting insurance fraud.
Justice Minister Lord Faulks said: "Fraudulent and exaggerated claims force up the costs of insurance premiums for everyone and we must take steps to tackle this.
"As the report notes, the government has already brought forward significant reforms to the way in which claims are dealt with and we will continue to take more action to drive down premiums for hard-working people."
What do you think of the measures proposed by the IFT? Do you think there should be more done? Tell us in the comments below...